As it usually happens, our neighbors across the border are not very prudent to taking criticism. They believe everything they do is perfect and if a flaw is pointed out, it is hatred from us, here across the border.
For the last two days the only thing that is been going viral in the sub-continent is Shahid Khan Afridi's tweet on the atrocities being committed by Indians in Kashmir. Ever since the tweet, it seems that India has lost its gripping and sanity, and the only thing now want is to prove that Lala is a Pakistani Inter-Services Intelligence (ISI) member.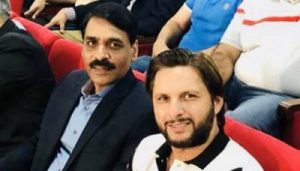 Since the incident, the Indian media has gone absolutely berserk and wants redemption at Afridi's tweet, which was not a public service message or Pakistan's foreign statement, but his own personal opinions. Shahid Afridi was on Waseem Badami's show on ARY TV, discussing the same topic. And the way he defended his stance, is a complete slap on India's face.
SHAHID AFRIDI YOU BEAUTY … \o/ pic.twitter.com/kiWiOEZQTX

— Taimoor Zaman (@taimoorze) April 4, 2018
Anchor Waseem Badami gave Lala the reference of DG ISPR and Shahid Afridi standing together, stating that Asif Ghafoor was the Chief of ISI and Lala was on an agenda of defaming India. To this, Lala shocked everyone with his comments. Most people in such a condition would try to play down the situation so things simmer and cool down, but Lala, as always, was going to hit one out of the park.
Shahid Afridi as a reply said that if he was not a cricketer, he would have been a Pakistan Army jawan, defending his country's borders. So, nothing that the Indian media says or does has any impact on him, as he knows he did his country proud by referring to atrocities being committed in Kashmir.
'Mujhe bohat Pyar mila hai India mein. India aur Australia mein sab se zyaada Cricket enjoy ki.' #Afridi pic.twitter.com/GbuVHAh9np

— Taimoor Zaman (@taimoorze) April 4, 2018
Following up his statement, Lala reiterated that over his career as a cricketer, he has received a lot of love in India and the people have always admired him for his 'boom-boom' performances. It is the state and media of India that has kept a grudge against the now retired international cricketer.
The jingoistic Indian media is doing nothing but defaming itself and the country. Everyone knows that human rights violations are being committed in Kashmir and there is no possible way that India can hide it. More power to you, Lala!