Life is unpredictable, you never know what is coming next. A 22-year-old Computer Science student of Nazeer Hussain University Affan Qureshi was totally unaware of what Allah has planned for him. Affan met a horrible accident on 27th October 2017 at Karimabad Bridge and fortunately, he survived. His family brought him to Agha Khan Hospital for treatment where Affan went through five major surgeries that cost 41 lac rupees. On the request of Affan's family, Agha Khan Welfare waved the specific amount and they paid 36.5 lac rupees for the whole treatment.
With the help of donations, Affan Qureshi got the best treatment and he is now able to feel and respond. Now, his family is in dire need of more donations to make him able to talk and stand on his own foot. According to the details, doctors suggested Affan to hire a physiotherapist so that he could restore his functional abilities. For Affan's rehabilitation, his family needs approximately 1.5 – 2 lacs monthly.
Here Is What Affan Qureshi's Sister Shared With Parhlo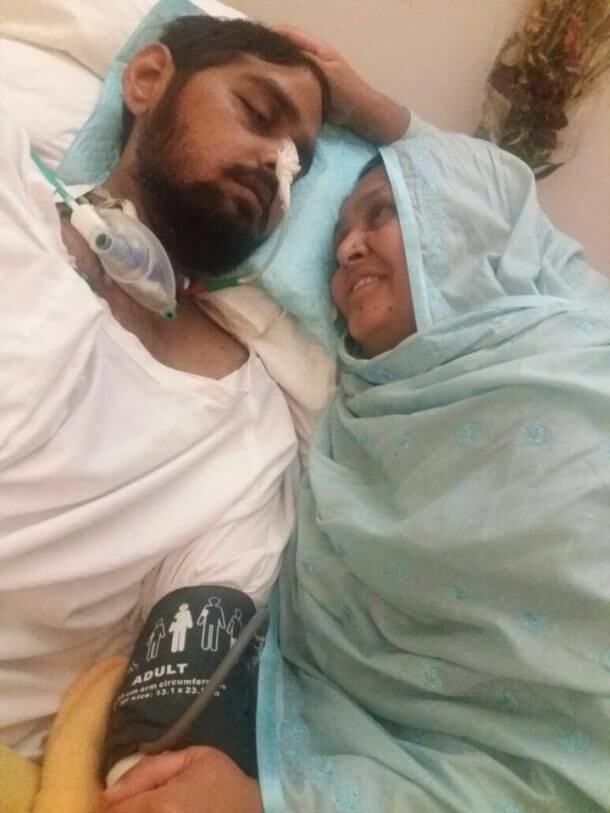 Salam Everyone,
We have started raising funds (donations only. No sadqa and zakat) once again for Affan Qureshi for the payments of nursing staff, physiotherapist and a new procedure for rehabilitation. For all of this, we require approximately 1.5 to 2 lacs monthly. My account details are mentioned below. Keep forward this in your circle and please pray for Affan's improvement.
Account Details For Donations
Local Bank Details
IBAN Number: PK69UNIL0109000222649564
Bank Name: United Bank Limited
Account Title: Sama Javed
City Branch, 0605- 222649564
Western Union Account Details
Name: Muhammad Nofil
CNIC: 42401 2525 3467
Contact:
Sama Javed 03346492081
Muhammad Nofil 03062282793
Email: samajaved23@live.com
We need exercise machines, medicines, and hospital checkups from doctors at Agha Khan Hospital, monthly blood tests, urine tests, and electrolytes. The monthly fees of two physiotherapists, nursing staff who are on duty for 24 hours. All these things are included in rehabilitation. Please, help Affan. If each person can donate 1000 rupees, it will become a huge amount for him. The single drops of water can make the sea, do share and help. JazakAllah
See Affan Qureshi's Latest Video
Affan Qureshi needs your help and prayers both. Please, spread the word as much as you can and play your role in saving Affan's life. JazakAllah!