The only good thing to come out of the Pak-Ind0 tensions, after the Pulwama terror attack, is the 'Major Adnan Sami' trend on Twitter. Pakistanis have roasted Adnan Sami Khan for his never-ending praise for India despite the fact that his father was a Pakistani.
Even the Pakistani journalist, Mubashir Lucman trolled 'Major Sami'
Thank you Major Adnan Sami for timely information about the Submarine. Due to your patriotism we have been saved many a time

— Mubasher Lucman (@mubasherlucman) March 5, 2019
If you thought the 'Major Adnan Sami' trend has faded away with the India-Pakistan tensions, think again. These youngsters from Karachi took it to the next level and arranged a protest for his "safe return."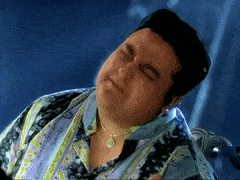 The event was hosted by 'Gulshan memes' and so far more than 20.4 k people showed the interest of joining the protest for the safe return of their super agent 'Major Adnan Sami' from India.
Initially, there was a page that was created on Facebook for 'Major Adnan Sami'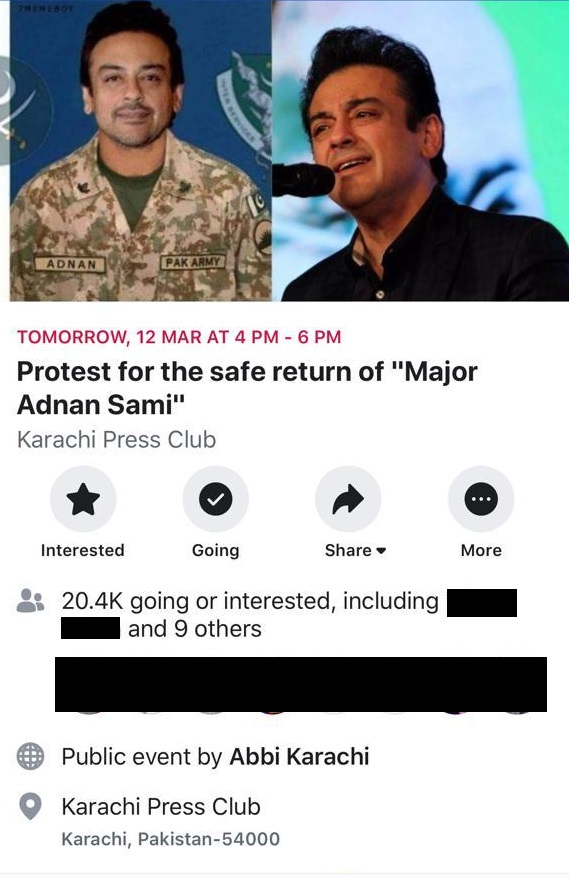 Right after we saw this, we genuinely thought it was just for the kicks and was probably another tactic for all the entertainment BUT turns out this actually happened!
Have a look at this…
Protest for Major Adnan Sami's safe return to Pakistan by Pakistanis😂😂😂@mshaanshahid @javerias @ComicsByMajid pic.twitter.com/oLwarJhb1h

— Asad Alauddin Khilji (@mohammadasad956) March 12, 2019
The boys and girls who gathered outside Karachi Press Club on March 12th were of the view that "Major Adnan Sami" has served Pakistan well by providing such information to Pakistan that 'showed the Indians their place' as a secret is out and his cover is blown, he must be returned to Pakistan "safe and sound."
There were a few posters that the boys used for 'Major Adnan Sami' at the protest
Protest for the safe return of "Major Adnan Sami"#HabibJalib#BeWiseAirIndia#BringbackmajorAdnan
#ہسپتال_نہیں_لندن_جاؤں_گا@AdnanSamiLive pic.twitter.com/YtuCPoL1XR

— #LabbaikKashmir (@iSMZeeshan) March 12, 2019
Have a look at how people responded to this entire event
Some just really appreciated Major Adnan Sami for his contributions for the country!
Some just thought this 'Major Adnan Sami' thing is getting out of hand…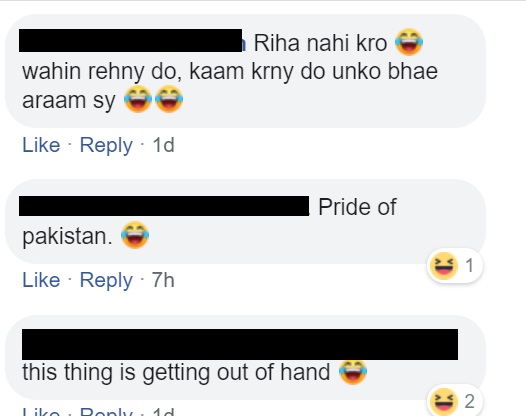 People took Twitter to express their views after the protest and it went something like this…
You are allowed to do whatever you want to save your cover. #MajorAdnanSami#ISI

— asif nawaz (@asif7502) March 13, 2019
Is he really a blessing in disguise?
#MajorAdnanSami a blessing in disguise lol

— Usman Ali (@UAliBhoon) March 14, 2019
Man, this is beyond hilarious!
Allhumdullillah Our #MajorAdnanSami is on a secret mission isi wajah se social media block hai..#Major_Adnan_Sami #PakistanZindabad

— Ahmad Khan (@being_aaykay) March 13, 2019
Anyway, long story short, people are taking this entire 'Major Adnan Sami' situation to whole another level and that's just bizarre! Some of us actually beginning to believe that he just might on a mission to protect his country Pakistan and sharing all the secret information!
This might even get Sami in trouble if there more protests for his 'release.' Don't you all think it's about time we shut this down and quit making the mockery out of 'Major Adnan Sami?' Let us know what you all think about this below! All hail Major Adnan Sami? Or maybe not..whatever!