Pakistan with utter dignity yesterday released the IAF W/C Abhinandan, after India asked Pakistan to send him home. Pakistan did not stutter giving him back! But clearly, Indian media couldn't digest this "Goodwill gesture" and portrayed it as Pakistan kneeling down to our ol' enemy!
After Indian media's exaggerated explanations about the whole scenario, people internationally were a little confused at India's behavior.
India's "politically correct" statements reached Pakistan and Abhinandan heard it too. As he kept saying that he was saved by the Pakistani army, and the calm in his voice could tell how he was NOT forced by anyone at all!
After his "sipping tea peacefully" video, another video was going viral – In it, Abhinandan was disappointed in his nation's coverage about him returning back!
When Imran Khan announced that he's going to let the Indian pilot go, Pakistanis were beyond happy at his decision. There were memes everywhere on the internet of him being safe here and how he would not want to go back to his country. LOL!
Yesterday, both the nations were awaiting his return on Wagha Border and when he appeared on the border he seemed calm and happy on the green side of the border, but the other side of the border did not seem to be so happy with his arrival, (or that's what it looks like).
People in Pakistan were disappointed by India's reaction (not-so-happy) upon Abhi's arrival! Watch the video a little closely!
After his sweet arrival to his homeland, there are rumors of news roaming in the air and people are not so happy that Pakistan returned India's pilot! So, allegedly India's Defense Ministry will be asking Abhi to retire by offering him Rs. 30 million (INR)!
Also, that he has been discharged from IAF!
India's Defence Ministry will be offering (Indian) Rs 30 million retirement package to W/C Abhinandan.
He has already been discharged from IAF as of today. So much so for him being a hero!

— Mubasher Lucman (@mubasherlucman) March 1, 2019
Pakistanis took out many conclusions from this alleged decision of the Indian Defence Ministry. This one is hard-hitting and sad too!

The-way-he-was-welcomed!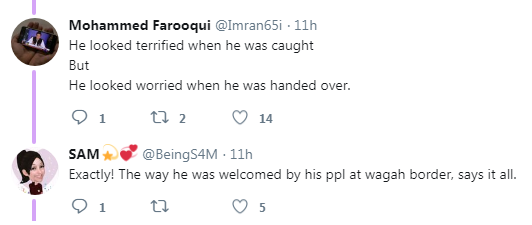 Clearly! He won't be trusted anymore!

Here's some Indian's perspective. Is this practically believable?

As sad it seems but his fate would be written around these lines!

Will India ask Abhinandan to retire? And will Indian media tell the world about it? In this crazy war of media, the common people are trapped!
Have anything to add to the story, let us know in the comments below!