Ever since Imran Khan became the Prime Minister of Pakistan, many people have kept hopes with him – there are hopes of change, revolution, resolution, and betterment. Amidst others, one woman, who sits in the United States, hurt and tired, hopes for support as well.
Yes, we're talking about Dr. Aafia Siddiqui, the most controversially prosecuted citizen of Pakistan. Dr. Aafia, who many refer to as the 'daughter of the nation', is serving an 86-year sentence of imprisonment at the Federal Medical Center, Carswell, Fort Worth in Texa. Aafia has been in prison since 2010 on charges of assaulting a US military personnel and attempted murder.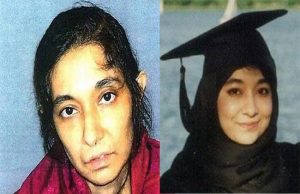 Dr. Aafia was a renowned neuroscientist who had acquired her degrees from MIT and Brandeis University, too very prominent names. Her mysterious disappearance at first was being questioned, but later, it was discovered, that she was sent to the US on their demands.
However, almost a decade later, Dr. Aafia Siddiqui is back on the scene. She has penned a letter directed to the Prime Minister of Pakistan, whom she also refers to as her 'hero'. In the letter, she tries to portray her innocence and hopes the PM would be able to bring her back home. Here's what the letter from the Ministry of Foreign Affairs that visited Siddiqui on 9th October says:
"I want to get out of prison, my imprisonment in the US is illegal as I was kidnapped and taken to the US. Imran Khan had supported me in the past also. I have always considered him as one of my biggest heroes and I want to see him as the Khalifa of all Muslims. He should be careful of the munafiq around him. All those who criticize Imran Khan for his past mistakes should stop doing that because under Islamic law he is innocent.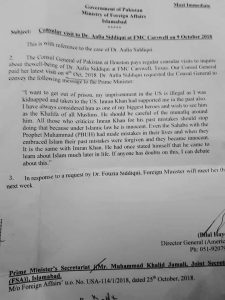 Even the Sahaba with the Prophet Muhammad (PBUH) had made mistakes in their past lives and when they accepted Islam their past mistakes were forgiven and they became innocent. It is the same with Imran Khan. He had once stated himself that he came to learn about Islam much later in life. If anyone has doubts about this, I can debate about it."
The emotional letter seems to be Dr. Aafia Siddiqui's last hope of coming back to the country. As per clause three of the notification, the Ministry of Foreign Affairs would meet Dr. Aafia again, at the request of her sister Dr. Fouzia Siddiqui.
Now, it is up to the incumbent Prime Minister on how he deals with this particular case. The US probably would not let Aafia Siddiqui go without a quid-pro-quo ordeal, which means something for something in return. All eyes are now on Dr. Shakeel Afridi, the US' man imprisoned in Pakistan in links to the Osama Bin Laden raid.