This post is also available in: العربية (Arabic) اردو (Urdu)
Aafia Siddiqui is a Pakistani national who was charged by a US court and sentenced to 86 years in prison. The current resolution was moved by Pakistan Tehreek-e-Insaf (PTI) member of the provincial assembly Seemabia Tahir.
The resolution demands from Prime Minister Imran Khan to award title of "Daughter of Pakistan" to Dr. Aafia Siddiqui and fastens efforts for her safe return to Pakistan.
It's safe to say that the government of Pakistan is geared up and is trying to bring Miss Siddiqui back. Moreover, the chances have even brightened due to ongoing talks of the United States with the Taliban.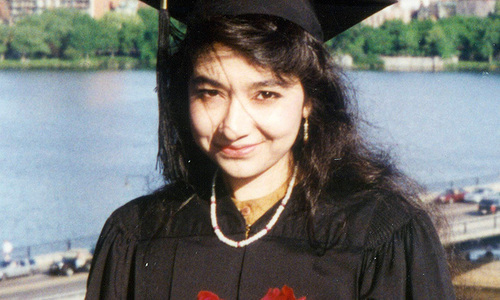 Furthermore, according to sources, the Afghan T, during their ongoing negotiations with the US, have presented a list of several prisoners which they want to be released.
Sources have informed that Ms. Siddiqui's name is among the top ten names whose release is being demanded by the Afghans. In November last year, Pakistan's consul general in Houston met Dr. Aafia at the prison where she handed him over the letter addressed to Mr. Khan.
People have mixed reviews on this and here are a few…
Some are highly against her return and believe that she has wasted a lot of money!
What she did for Pakistan.just waste million of rupees of govt and never cooperate with lawers.dont be emotional she was Taliban's agent.

— Sadia (@sadiasadaf85) March 18, 2019
Some said not at all!
No. Not at all. Not recommend.

— Masood Ahmed (@maxibaba) March 19, 2019
Another user said that it's useless
This is quite non sense

— asim hafeez (@asim900) March 19, 2019
One more user stated this…
For what god damn reasons! pic.twitter.com/COKVMZqc9m

— Dani Q (@DaniQ27) March 18, 2019
Another user made fun of Aafia…
Lmao it's 2019 and people still consider Aafia Siddiqui innocent.

— S. (@GrungeParties) March 18, 2019
However, some were glad that Aafia might return to Pakistan!
I commend the mother and sister plus the whole family of Aafia Siddiqui may Allah Grant everyone a Sister & family like that Ameen suma Ameen ???

— Nighat Azhar (@AzharNighat) March 16, 2019
Hamza Ali Abbasi partook in the Twitter debate and shared his views.
Heard Dr Aafia Siddiqui will be home soon… Ya Allah madad❤️

— Hamza Ali Abbasi (@iamhamzaabbasi) March 15, 2019
Here's another user mentioning the return of Aafia Siddiqui
So Aafia Siddiqui is coming back home, Insha'Allah! Her sister Fauzia Siddiqui confirmed that and praised PM @ImranKhanPTI – she said #PMIK is not just very serious but wanted to bring back her within Jan. So it's a dealy because of formalities.

Thank you in advance #PMIK

— Ray (@iKarachiwala) March 13, 2019
Digging a little deeper, Aafia's parents were Pakistani strivers – middle-class people with strong faith in Islam and education. Her father, Mohammad, was an English-trained doctor; her mother, Ismet, befriended the dictator General Zia ul-Haq.
Aafia was a smart teenager, and in 1990 followed her older brother to the US. Impressive grades won her admission to the prestigious Massachusetts Institute of Technology and, later, Brandeis University, where she graduated in cognitive neuroscience. In 1995 she married a young Karachi doctor, Amjad Khan; a year later their first child, Ahmed, was born.
We're still waiting to see if Aafia will step in Pakistan and if we'll ever learn the truth behind the entire situation. If you have anything more to add to this story, let us know!