This world is becoming one unsafe place to live in. Not just for human beings but for animals too now. A seven-year-old pregnant goat was found dead in Mewat, Chandigarh-India after it was allegedly gang-raped by eight men.
After this news broke out on social media, there was outrage on Twitter and #JusticeforGoat campaign was launched. According to the complaint that was filed, the rapists were alcoholics and drug addicts who stole the animal.
This is what people had to say:
This is just sad…
#Humanity stoops to a new low! Pregnant #goat dies after being #gangraped by 8 men in #Haryana's #Mewathttps://t.co/UMCqS3IAeH

— ABP News (@abpnewstv) July 29, 2018
How can they call themselves human?
Shocking how evil minds have meted out this atrocity to a goat. Perverted minds that are so scared to live in India, they chose to brutally harm an innocent goat.

Goats will have to learn self defense too now!! #JusticeForGoat pic.twitter.com/tVYfBt9PI7

— Thara Gopalan (@thara_gopalan) July 29, 2018
INHUMANE.
I demand #JusticeForGoat and send such "Mentally Sick" people behind the bars under the Section 377 law. If these are freely roming in society then it's a big dangerous for all.

— Abhishek Mishra (@Abhishek_Mshra) July 29, 2018
No words.
Forget women..Even Goats and Cows are not safe around Peacefuls…
Even cowards of @PetaIndia are totally silent..#JusticeForGoat https://t.co/r2m7lqWRqh

— Ritu Rathaur (सत्यसाधक) (@RituRathaur) July 29, 2018
The tweets that were posted were majorly targeting the rapists as Muslims. However, according to the sources, only a few names were disclosed which are Savakar, Haroon, and Jaffer, while other identities are to be ascertained. Hence, it cannot be confirmed if all the men were Muslims.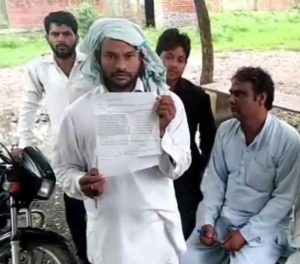 Haryana: Pregnant goat died a day after allegedly being raped by 8 men in Mewat. Goat's owner (in pic) registered a police complaint on July 26. Police says, 'all accused are absconding. Medical of the dead goat will be conducted. Investigation is underway' pic.twitter.com/Ejyc6u56WT

— ANI (@ANI) July 28, 2018
Even though the owner of the goat has filed a case that has been under the section 377 of the Indian Penal Code, the accused men have fled away.
It is sad we live in such a cruel world where innocent animals are gang-raped and tortured. We, as a society need to stand up for animals and save them from such heinous human beings.
What are your thoughts on this?