Weddings weddings weddings! That's what happens in Pakistan just as winters begin. All over the country, it is a huge and long parade of weddings, one after another, till we go off season.
Weddings in Pakistan are very different from a lot of other places in the world. Apart from holding traditional and psychological value, these weddings also have an entertainment x-factor which other countries in the world usually don't have.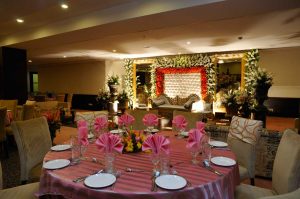 From the loud music to food-wars, followed by aerial firing and dancing to the beat of a dhol, at late hours — that's what makes a proper Pakistani wedding. However, people in Islamabad are soon to be deprived of all this joy.
According to the Deputy Commissioner Islamabad, under the Prohibition of Ostentatious Displays and Wasteful Expenses Ordinance 2000, residents have been told to strictly follow timings (celebrations can only last until 10 p.m.) and limit food to a single dish, which means an out and out one-dish wedding party.
In official words, it says: With reference to section 3, 4 & 5 of the Marriage Functions (Prohibition of Ostentatious Displays and Wasteful Expenses) Ordinance 2000 and in lies with the Judgment of Honorable Supreme Court of Pakistan, no person will explode or allow anyone to explode cracker and other explosive device firing or Firearm or display or allow anyone to display fireworks.
In layman's language it means, no late weddings, no fireworks, no shor-sharaaba, no wasting of food (one dish), no fun, boring wedding and "Why did we even come?"
However, implementation of this policy has been made very important from the bureaucracy and all these prohibitions somehow affect the society, more in good than a bad way. The one-dish system tends to save a lot of wasted food and puts a lesser burden on the parents of the groom/bride, while a ban on any sort of firework decreases the risk of any mishap. But the fact remains, Islamabad is going to feel very boring after this news.