This post is also available in: العربية (Arabic) اردو (Urdu)
Every day we see incidents that make us question humanity and it is not even surprising to us anymore because these things happen so often and will keep happening unless we really do something about it. A video of a female student named Sidra Riaz from International Islamic University Islamabad surfaced the internet and is a cry for help. Sidra claims that she has been forcefully taken advantage of by a lawyer named Asad Hashmi and demands justice.
Sidra lodged a complaint against the lawyer who committed this inhumane act but as seen in the video, she has been bothered, approached and asked to take back the case and tell the court that she couldn't identify the lawyer. Sidra has received numerous threats that, "Agar case wapas nahi liya to goli maar denge!"
Here's what Sidra Riaz had to say about what she's going through!
یہ ہے اسلامک انٹرنیشنل یونیورسٹی کی طالبہ سدرہ ریاض، سدرہ کو اسلامک یونیورسٹی کے ہی پروفیسر جاوید ہاشمی کے بھانجے اسد ہاشمی نے زیادتی کا نشانہ بنایا اور اب ایف آئی آر واپس لینے کے لیے اس بچی پر دباؤ ڈالا جا رہا ہے اور اسے جان سے مرنے کی دھمکیاں دی جا رہی ہیں ، سدرہ کا کہنا ہے…. pic.twitter.com/bHrBHohTao

— Siasat.pk (@siasatpk) February 2, 2019
In the video, she names one of the professors, Javed Hashmi, the uncle of the alleged man, from International Islamic University Islamabad who has been reaching out to the victim to take back the case and get in a relationship with the man alleged. She says that if she takes back the case and lets Asad go, her education expenses will also be taken care of.
The police registered a case against Asad Hashmi under section 376 of Pakistan Penal Code (PPC) and begun investigation with no arrest. Sidra has appealed Chief Justice of Pakistan to take immediate action as her life is in danger after all the 'dhamkian' from the other party.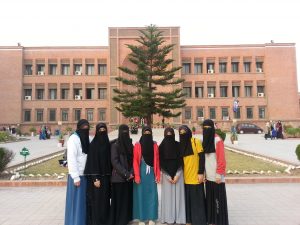 People on the internet took this video pretty seriously and made it viral and have been demanding justice for Sidra Riaz and rightly so. We hope that both the men don't escape the hands of law and justice is served. Sidra should be applauded for being brave enough to come up and speak for herself and not being broken down by all the threats to her life.
We request Chief Justice of Pakistan to take notice of this case and give punishment to those who deserve. Pakistan should be made a safe place for women and an example needs to be set, sooner or later. In a society where women are asked to stay silent when someone forces them physically or harasses them, Sidra can be made an example of change. She spoke and got the justice. We can only hope.