Lahore, the city of big-hearted people, a historical landmark in the sub-continent. The city has come to be known as a blend of culture, tradition and of course spices. There's one thing Lahoris love more than where they are from, and it is food!
Over the last handful of years, Pakistan has seen many different entrepreneurial food ideas that have worked and some that have failed utterly. From mammoth burgers to pizza cones, from protein shakes to Nalli Biryani – we've literally seen it all.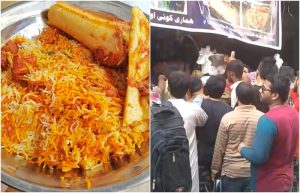 However, one thing that nobody ever thought of, or would want to think of, is the latest invention, allegedly from Lahore. If you still haven't seen it, yes, we're talking about the infamous 'Paya Burger' – the picture of which has gone viral.
Now, we really don't know which restaurant is serving this odd looking, 'I don't know how to eat this meal', but if we had to take a guess, the restaurant isn't too keen on publicizing this either.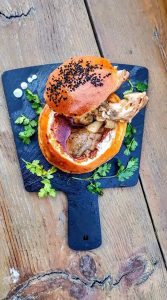 The Paya Burger, with a fresh bun on top and what seems to be a bread bowl in the bottom, holds a huge Paya (now it is pertinent here to mention that a Paya is goat feet), with its gravy. So if that's the concept, to not bite it like a burger, is the bun to broken and dipped in the Paya? I'm sorry, we're just trying to make it work, as the meal might tickle a few people's fancies.
Well, since the picture first surfaced on Twitter, this is what people have been saying regarding the outlandish Paya Burger!
Paya Burger has been introduced in Lahore, we wished way khota karahi but won't forgive this.Loreeyo twanu Allah pochay! pic.twitter.com/SIpjTj7Dbn

— AR⚽ (@ARfrom1947) November 6, 2018
so apparently PAYA BURGER is a thing in Lahore pic.twitter.com/dqDvRjeikl

— غدار وطن (@noumanihsan_) November 3, 2018
Great to see all the bhaiya's from Kiirranchii going crazy over a fusion dish created by a young Lahori. I guess all the gutkha chewing has killed all the creativity in this generation of kiirranchii wala bhaiya's.

— Asif H William (@AsifHaroonWilli) November 6, 2018
لہور لہور اے ?

— ᏝᏗᏕᏂᏗᏒᎥ (@MirLasharii) November 6, 2018
Yaar yeh kaisay mumkin hai ?

— Malik. (@WaeedAwan) November 3, 2018
With the concept of the Paya Burger still unclear, it seems to have been devised by a young Lahori chef, who people do not want to name or have no idea about. Some on social media called it perplexing, while others said it was a straight out abomination. Karachiites, however, took a lot of joy out of the picture, which reinstated their negation of Lahore being the food hub of Pakistan.
For decades, Karachiites and Lahoris have been daggers drawn at each other on the fact that which city has better food. When the Nalli Biryani from Karachi went viral, it was the Lahoris who had started mud-slinging on Karachiites for eating 'ungodly food'.