Summers, the time Pakistanis set out to travel the Northern areas, is always marred with incidents that are thoroughly condemned. From natural hazards to self-inflicted mistakes, it all takes place during these tours.
On Sunday, police confirmed that at least 6 people had died, while 9 remained missing as an old bridge collapses over the Darya-e-Neelum. As per reports, a group of tourists had gone to visit the Northern areas, most of them hailing from Faisalabad.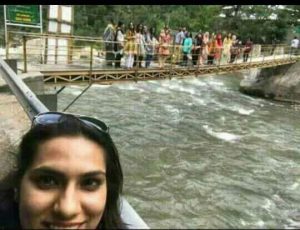 Upon reaching the old Jagran bridge, made out of wood, almost 20-25 people, together, went and stood up on the bridge to take pictures. The bridge, however, was in no condition to handle so much weight. As per one of the boys involved in the incident, who survived, the bridge snapped from the center, dragging both ends in the water.
Nullah Jagran, Kundal Shahi Azad Kashmir – Students last moment picture of tragic inncident in which 5 students from Faisalabad where died and 20 are missing when they tried to take selfie and weaken bridge collapsed. pic.twitter.com/EV36xmAEeB

— #Harud🍁 (@HarudinKashmir) May 13, 2018
Almost all the people fell into the river, but some got hold of the bridge, while others were stopped by the stones that preceded the bridge on the river. Not all, however, were so lucky. "Though we are yet to confirm an exact figure, it is believed that between 20 to 25 persons were standing on the footbridge when it crumbled," said the SP Police Mirza Zahid.
Up until now, the police has been able to recover six dead bodies from the river, while the rest remain missing still. The students were enjoying the view of the emerald green water and taking selfies when suddenly the bridge collapses, sending them away in the wild currents of the Neelum river. Ever since the incident was reported, a picture had been going viral on social media, which showed some 30-40 students standing on the same bridge that had fallen.
#NeelamValley Update – Updated List of dead, injured & missing Tourists/Students – Earlier today, Antique Bridge Broken in Kundal Shahi, Jagran, Neelam Valley due to Overloading. Rescue Operation of #PakArmy continue. #Pakistan

06 Dead
11 Injured
06 Missing (Pray for them) pic.twitter.com/xYQGkGTGyN

— SherY – (@SherySyed_) May 13, 2018
The tragic incident has left a debate on social media as to how the bureaucracy of Northern areas needs to manage affairs and better facilities for tourists. Also, another topic up for discussion is how not to be over-excited on such occasions, that 40 people end up standing on an old, wooden bridge.