This post is also available in: English (الإنجليزية) اردو (الأردية)
Our beloved Prime Minister and evergreen KAPTAAN, Imran Khan has always been a heartthrob of the nation, and most of the citizens admire him for his honesty and dedication towards what he does. There's not a single doubt on how much of a strenuous journey he has gone through and the never-ending hardships he faced to reach the destination he always deserved.
Recently, a picture got leaked and went viral in a wink of an eye and since then, our people have lost their minds. Well, the picture was indeed shocking and deceiving in a sense that it could fool anyone. It shows PM Imran Khan in a meeting with his cabinet members and there are bottles of alcohol on the table, two of them actually.
This is the picture which has been going viral on social media!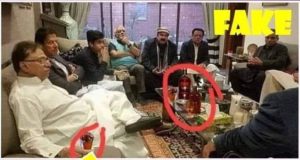 This picture just made everyone really worried and grumpy and why not? It has every element that triggers every Pakistani's sentiments and shatters them to pieces.
Let's now come to reality and let everyone know we're living in an era where every tom, dick and harry can edit a picture and generate a hot potato which will make our AWAAM go crazy. This is what actually happened here.
Did we really believe that a person so honest, who promises to protect every single penny of our people and someone who's trying his heart out to bring Pakistan back to the position it always deserved, will be in support of something like this? Well here's the dark truth.
This is the REAL picture, which had been photoshopped by political rivals of PTI!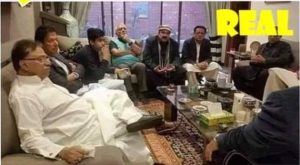 Just look how perfectly the picture had been edited and showed to our innocent audience that they didn't even question it for a second and the picture spread like wildfire. However, the myth has now been laid to rest and one thing is for sure, if somebody doesn't clarify a particular notion, such as this picture, the majority of people start believing any said news, just as they did here with the PM and cabinet drinking alcohol.
Now, the thought that rises is who really would have edited this picture? Trolls? Political rivals? Obviously. Something like that has been happening in Pakistan ever since the start of the age of the 'digital media' — however, it should not bother the people or PM Khan too much. Don't believe everything you see on the internet!