This post is also available in: English (الإنجليزية) اردو (الأردية)
Before Imran Khan's Pakistan Tehreek-i-Insaaf government came into power, there was a lot of talk about how the image of Pakistan would change when the now incumbent PM would take over as the country's Prime Minister.
With almost 6 months into power now, the change is finally becoming evident. The slogans of 'tabdeeli' are being seen all over the world, wherever our Prime Minister goes, be it in the West or the Middle East.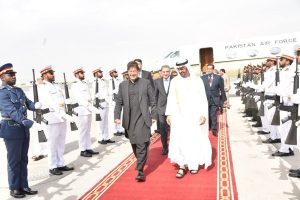 Imran Khan's recent visit to the United Arab Emirates showcased just that after he was received by the Emiratis as a royal dignitary. His Highness Sheikh Mohamed bin Zayed Al Nahyan, Crown Prince of Abu Dhabi was himself present at the airport to receive Prime Minister Imran Khan when he arrived in Dubai on Sunday.
The best part about Imran Khan's immaculate entrance was that the UAE's Crown Prince made sure that a red-carpet was rolled out for Imran Khan's entrance, something no previous leader of Pakistan had expected.
Prime Minister @ImranKhanPTI arrives at Dubai, UAE on a day long visit on the invitation of HH Sheikh Rashid bin Mohammed bin Rashid Al-Maktoum, Prime Minister of UAE & Ruler of Dubai to participate in the 7th edition of the World Government Summit. #WorldGovSummit pic.twitter.com/dDHqom8lTw

— PTI (@PTIofficial) February 10, 2019
Once he had been received with immense respect and pride, the Prime Minister was taken to the palace, where he addressed the World Government Summit and met with the Managing Director of the IMF, Christine Lagarde.
The visit was given such prominence that Imran Khan's complete speech was published in the Khaleej Times, where the PM welcomed Emirati investors to put their money in Pakistan, as the country would soon become an economic hub.
The reception that Imran Khan got from UAE showcased how serious he was in doing his job and how UAE and Pakistan would be working closely, strengthening economic and security ties for both the countries and the rest of the region.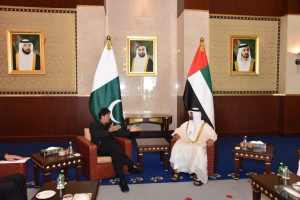 Comparing this visit with ones that our leaders had done previously, shows a huge new acceptance for Pakistani leadership in the Middle East. Previously, our leaders were mostly welcomed by Ambassadors, instead of the rulers of the UAE. Ever since the video of the red-carpet rolling out for PM Imran Khan surfaced, people on the internet have been highlighting just that.
This is how the internet is reacting to PM Imran's visit to the UAE
People prayed that this visit pans out in the best interest of Pakistan..
اللہ پاکستان کے لیے بہتر کرنے کی توفیق عطاکریں۔آمین

— مــدثــــر چوہدری (@Mudasser_Pk) February 10, 2019
Others were sure that the PM's rival would get extremely jealous…
Sir plz duayn parh k phoonk layn khud par ye patwari hasad krynge bhot zada or nazar lagynge.

— Wajishaikh17 (@wajishaikh17) February 10, 2019
Some pointed out that respect and honesty were characteristics of Imran Khan, newfound!
Respect of IK-PM respect of Pakistan…. actually this is the respect of honesty.

— Fiaz Akbar (@Fiazakbar) February 10, 2019
This person pointed out that neither Nawaz Sharif nor Asif Zardari would ever be treated like this!
Can you imagine nawaz sharif or zardari receiving such warm welcome ❤️

— MVA (@MVA48745743) February 10, 2019
So, as it stands, Prime Minister Imran Khan has taken our Foreign Policy by storm, something new previous leader had the guts to take care of. Let us pray, that Imran Khan continues to make Pakistan proud in a similar fashion.