This post is also available in: English (الإنجليزية) اردو (الأردية)
Pakistan's ideology has always differed from the masses. The conservative thinking, which is joint by religion in the backdrop, sometimes comes out with unimaginable results.
In a first of its kind revelation, almost 15 shopkeepers in Buner, Khyber Pakhtunkhwa, were arrested for selling women undergarments, namely bra, and panties in public.
Apparently, these shopkeepers were arrested and fined by the Assistant Commissioner of Buner, who must be a KPPSC or an FPSC officer, hailing from the cadre of services. The shops were situated adjacent to the Shrine of Pir Baba, which is why strict action was taken against it.
A report published by Fasaadi.com said: "14 shopkeepers were arrested and fined by Assistant Commissioner for selling Bras and panties in Pirbaba bazaar (BUNER) adjacent to the shrine of PirBaba which is basically a bazaar for females on the pretext of obscenity and on the grounds that selling women undergarments is prohibited because " Ye Fahashi Phailatey Hain". FIR was not lodged against them as they were released on personal bonds of elders of locality. – Reported by Ahmed Khan"
Now, the first question that arises is, that are women undergarments an item of obscenity. Isn't it taught to us throughout our lives by elders and society that women are supposed to wear undergarments? If it is so, where are they to buy them? Does the bureaucracy and jirga system of Buner expect for foreign undergarments outlets to open stores with tinted windows?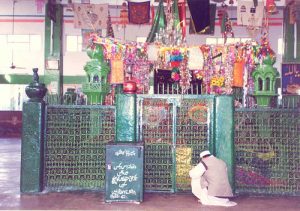 In a poverty struck area such as Buner, ease enhancement shops for daily and personal utilities of women are already a step in the positive direction. However, if they too are deprived of this case, what are the local women to do? Stich their own undergarments so the elders do not have to witness 'obscenity' next to a Shrine? Which isn't really a teaching of Islam?
Concerned authorities, namely the Deputy Commissioner and the Commissioner of Buner need to handle this situation before it blows out of proportion. Respecting a Shrine in its own place, needs of women are to be respected as well.