This post is also available in: English (الإنجليزية) اردو (الأردية)
In the middle of all the political chaos between India and Pakistan, every phase of life between the two countries has been affected in a very negative way. From sports to arts and entertainment industry, everything has gone down the hill between the two nations.
From actors like Ajay Devgan not releasing their movies in Pakistan and rest of the Bollywood actors posting tweets about the "apparent" strike in Pakistan and screaming Jai Hind at the top of their lungs; Indians asked their media bodies to put a ban on every Pakistan artist. However, recently, actor Ranveer Singh has condemned the ban.
The ban of Pakistani artists in India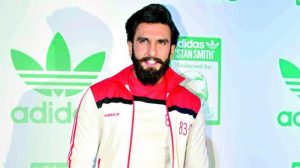 The ban on Pakistani artists in India has been pretty real as it was seen after the 26/11. A lot of Pakistani artists boycotted going to India themselves and rest were, well, uninvited from their respective gigs.
And it really is a matter of shame for India for mixing arts and entertainment with the political tension between the two countries.
Discussing the same scenario after Abhinandan's return, Ranveer Singh said: "I am very cognizant that there is this school of thought that one should not mix art and sport with it, they are two different realms".
He further added "But at the same time, us as artists and sportsmen, we are not sacrificing the same way that some of our compatriots are. Art and sports are different realms. The boundaries should be different." Although he showed a lot of emotions when our trees got destroyed:
Jai Hind ?? @IAF_MCC

— Ranveer Singh (@RanveerOfficial) February 26, 2019
Whereas some artists advocate such acts
Actors like Ajay Devgan don't want their movies to be released in Pakistan and this gesture will just ruin the relationship between the two countries further. Arts and entertainment should never be mixed with the political situation. An artist is for everyone no matter what their nationality is.
In light of the current situation the team of Total Dhamaal has decided to not release the film in Pakistan.

— Ajay Devgn (@ajaydevgn) February 18, 2019
But we are good as long as its movies like Total Dhamaal not being released in Pakistan. That really is no loss for Pakistan, in fact, we have been saved from the trouble.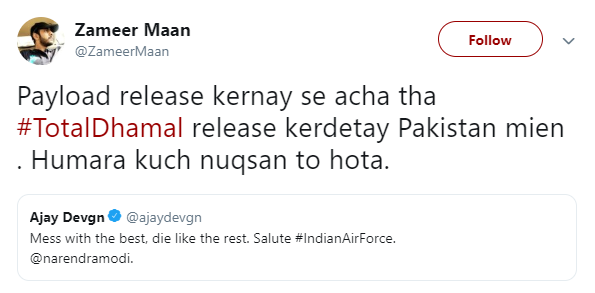 It's good that Ranveer Singh is realizing that Pakistani actors should be allowed in India. Ranveer has countless fans in Pakistan too and this is the kind of sensibility we expect from him.
Although he has been pretty vocal about the whole current situation, defending and rooting for the Indian Air force and showing his nationalism, this is a good thing that he has condemned this ban on Pakistani artists.