This post is also available in: English (الإنجليزية) اردو (الأردية)
In Pakistan, being a politician is always linked with milking the government. People think that whenever somebody becomes the people's choice and joins the government, they start looting it.
However, when Imran Khan and the PTI came forth with their political agenda, they promised to change things. This is exactly what they have done.
Recently, ARY News revealed Prime Minister Imran Khan's per month salary, and the invoice has shocked everyone. Imran Khan is taking home less money than all the Chief Ministers of every province. Better yet, even normal 18 grade bureaucrats in Pakistan are earning more than him.
This is how much Imran Khan is making every month!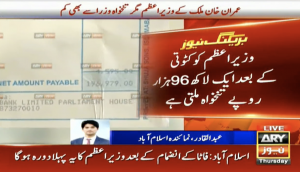 The Prime Minister of Pakistan is only earning Rs 1 lac 96,000 per month. Even the Federal Ministers are paid more than him. Imagine! A normal Federal Minister of Imran Khan's cabinet is earning almost Rs. 2.5 lacs, which is 50,000 more than his salary.
Bring this in context to the salaries of a company's CEO, they earn almost 4 or 5 times more than him. Imran Khan did not come into power for money, now this is something that has been guaranteed. This act of the Prime Minister is making people fall in love with him all over again, and we are among them as well.
All this came into light after the parliament, with a consensus, passed a bill that would increase their personal salaries. Being the epitome and flagbearer of 'change', Imran Khan spoke against it on Twitter as well.
If this isn't tabdeeli, we don't know what is!