This post is also available in: English (الإنجليزية) اردو (الأردية)
A special tribute song — 'Mujhay Dushaman Ke Bachon Ko Parhana Hai!' (I want to educate my enemy's children) –   was released by the Pakistani military's media wing. "We are a resilient nation, our enemies shall never succeed," Director General of the Inter-Services Public Relations (ISPR) Maj Gen Asif Ghafoor said in a tweet.
We are a resilient nation, our enemies shall never succeed. Nations evolve through struggles, determined ones succeed. We are succeeding, united & steadfast we shall attain our objectives of enduring peace and prosperity, IA.#ہمیں_آگے_ہی_جانا_ہےhttps://t.co/bMzXduVn5p pic.twitter.com/dHOdUTidmi

— Maj Gen Asif Ghafoor (@OfficialDGISPR) December 16, 2018

A national tragedy, the APS Peshawar incident claimed 145 innocent lives, mainly children, with some as young as five years – this wanton violence became a rallying cry for Pakistan to unite against the existential threat of what leaps in the background.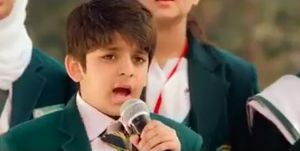 In a video making rounds on social media, Indian school girls in Rampur district were seen dancing on Inter-Services Public Relation's (ISPR) song that was released after the Army Public School incident in 2014 as part of Indian Republic Day celebrations.
Indian School playing ISPR song on their republic day ?. We r capable of reversing the cultural invasion! Pakistan Zindabad ??

Posted by Karachi.Com on Sunday, January 27, 2019
There are mixed reviews on it, here are few responses of the video above…
Some thought they're great artists
there is no boundry for the artists….

— Abdul Samad (@AbdulSa23715174) January 27, 2019
Others thought it was dubbed
I dont think so…it could be a sound dubbing, you cant tell from their faces what they are singing!!

— Rashid Abbasi (@rash_uk) January 27, 2019
I think this is not original. Dubbed video.?

— Nabeel Asif (@NabeelABh) January 27, 2019
Some encouraged the gesture
Shouldn't it be well done for these kids and India who led that happen.

— Usman Ahmad Chattha (@usman_says) January 27, 2019
Others found humor in the video
Hahahahaha @unoffarnab where is the party tonight?

— Kamran Jalil (@M_KAMRANJALIL) January 27, 2019
Tabdeeli ??

— xulfi (@xulfi11) January 27, 2019
And this…
What hahahahahaa they might be paying tribute to the victims of aps and whts point of celebrating it as win!?! U guys play indian melodies on ur each and every function!!!

— Khan Pirzada (@saaiien) January 27, 2019
This guy just wanted to be sarcastic…
Haha. Pakistani morning shows ma sb indian song pe dance karte hai

— Mudassar Gujjar. (@gujjar_billi) January 28, 2019
What do you think of the video above? Do you think it's an attempt to resolve the Pak-Indo feuds or is it just another attempt of a humorous act? Let us know in the comments section below.