This post is also available in: English (الإنجليزية) اردو (الأردية)
Ever since the incumbent government of Pakistan, the Pakistan Tehreek-i-Insaaf came into power, they have tried their best to mend things with neighbors and rivals India, a constant tug-of-war that has been going on for 70 years.
On one too many occasions, the Indian government and military have neglected Pakistan's extension of friendship and working together, in a bid to forget the past and focus on the future. However, every single time, these attempts have gone futile, with the Indians showing high levels of jingoism.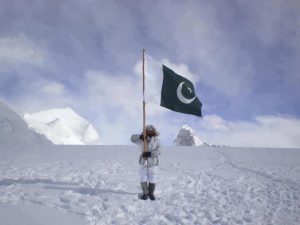 Therefore, it is only right to call a spade a spade, meet them right where they want us. Even a huge majority of the ordinary Indian tries to show Pakistan down whenever they get a chance, taking jabs below the belt.
This recent video which has been going viral on Indian and Pakistani social media shows how easy the Indians have taken their borders. Pakistan, a country that takes immense pride in its armed forces, knows the forces are always geared up for our protection.
In the video, a few Indian troops posted at Siachen can be seen dancing standing in the snow, making foolish moves but definitely enjoying themselves. The funniest bit is, despite the huge collection of songs they could've danced to Bollywood style, they chose an extremely famous Pakistani song.
Indian army jawans enjoying themselves in a high altitude post. Hawa Hawa hai hawa… @adgpi pic.twitter.com/mkCFlw28VN

— Snehesh Alex Philip (@sneheshphilip) December 11, 2018
Yes, Hawa-Hawa by Hassan Jehangir, whose take of the Iranian song made him a pop-legend in the country. This carefree attitude of the Indian troops in a high-profile area such as Siachen counter out their fake claims of surgical strikes and movies that promote how extra-ordinary their military force is.
In fact, right across the border, the Pakistani jawaans, remain focused as always, doing their duty. Never complaining about the harsh environments or management, our jawaans lock their hawk-eyes in the right directions, not giving the enemy any chance of engaging in shenanigans.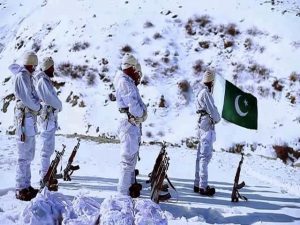 People on social media, Indians, and Pakistanis, both have been pointing out how the song is Pakistani and Indian troops should have chosen something else. For Pakistanis, this is a perfect opportunity to troll Indians for a long, long time.
Even though peace should be promoted between both countries and the media has a critical job in doing so, but the extension of friendship cannot be one-way. Every single day, the Indian media and propagandists engage in showing the negativities of Pakistan, instead of promoting peace and harmony. Till then, enjoy the video. ~Hawa Hawa, ae Hawa, Khushbu Lutaa De~