This post is also available in: English (الإنجليزية) اردو (الأردية)
The final verdict of the Panama Case in the Supreme Court can very well be announced in the coming morning of Monday, and the situation is looking extremely downhill for the Sharif family. Such is the situation that an all-party conference was called out by the PML-N in which every senior member was present, including Nawaz and Shahbaz Sharif. The report submitted by the Joint Investigation Team (JIT) has several major and minor clauses that seem to have tightened the grip on the Sharif family.
The JIT was called after three of the five judges could not come to a conclusion on the Panama case due to insufficient evidence and inquiry. However, the remaining two judges decided against Nawaz Sharif and his family. Hence, after a period of 60 days JIT was to submit a report back to the Supreme Court, and so they did. After several hearings from all concerned members, and even after a travel to Dubai for accurate inquiry, JIT turned on a red light for the Sharifs. The report was rejected even before it was submitted to the Supreme Court as if PMLN knew what was coming up.
Immediately after the report, Nawaz Sharif and his brother assembled the whole PML-N party to discuss future steps. The cabinet was also present, including the Interior Minister Chaudhry Nisar. Reported by Geo News itself, the real situation of the conference was revealed. When it was time for Chaudhry Nisar to speak, he voiced immense concern for Nawaz Sharif. Specifically stating that "only a miracle can save you" and that "I will pray for you". Moreover, interior minister also spoke about his loyalty. Present alongside the Sharif since 1985, he has done everything that he was asked for and never betrayed the party. At first, he was called for advice, but not anymore and to make matters even worse, junior members of the party were brought forward instead of him.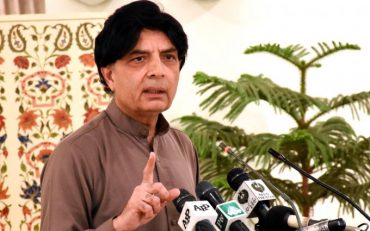 Chaudhry Nisar even went on refer to Nawaz as "Mr Prime Minister" during his speech, in which he also stated that only once did he ask the PM for the seat of Exterior Minister, and did not ask anything from him later. He called for an end of collisions between federal institutes and all unnecessary speeches of strength and rejection of JIT by party members. Chaudhry Nisar exited the conference on an early note and did not appear for the party's parliamentary conference the next day.