This post is also available in: English (الإنجليزية) اردو (الأردية)
The thing about modern engagement between the two countries is that either it becomes too good, or too bad, there's no in between. The recent crisis in the sub-continent, which erupted after Pulwama, has left the world with their eyes locked on India and Pakistan.
The recent developments, where the DGISPR of Pakistan and the Prime Minister have called for peace, seems to be a step in the right direction. Finally, after two days, it's safe to say that Pakistan has got the upper hand in this modern game.
Today, after Pakistan responded to Indian trespassing exclusively, the Jawans of the PAF made sure they replied India hard and made them hear the noise. After successfully carrying out the charade, India wanted to keep the upper hand again. However, they could not do so as an IAF (Indian Air Force) plane with the pilot, went down in Budgram, Pakistan.
The pilot, who was caught, has come to be known as Wing Commander of the Indian Air Force, named Varthaman Abhinanand. Just after he evacuated his plane and landed in the middle of nowhere, Pakistani civilians ran to teach him a lesson.
However, before the group of people could reach Abhinandan, the Pakistan Army secured him and pushed the people away, so he could be safe. Since then, Pakistan Army has launched an interview video of the pilot, where he speaks about the generous and honorable treatment he has been receiving from Pakistan Army, AS HE DRINKS A CUP OF TEA! *Sluuurrrrppp*
"I would like to put this on record, I will not change my statement if I go back to my country also. The officers of the Pakistan Army have looked after me very well, they are thorough gentlemen! Starting from the Captain who saved me from the angry citizens," said the Wing Commander Abhinandan said.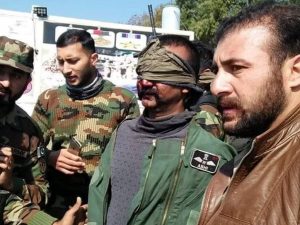 "This is what I would expect my Army to behave is, I'm very impressed by the Pakistan Army!" – On being asked if he liked the tea, Abhinandan says, "THE TEA IS FANTASTIC, THANK YOU!"
After asking other details, the video ends. This video is clear proof of the respect Pakistan Army gives to Indians, in return of what we get from them. The video is going viral both in India and Pakistan, and maybe, the message of peace and love can prevail now.