This post is also available in: English (الإنجليزية) اردو (الأردية)
We are well aware of the apparent "trespassing" committed by the Indian Air Force earlier today in Balakot which according to them ended 300 men. True, because the 300 of them happened to be at the same place waiting for India to come for them and just have a successful operation against them. We all know what's the reality and what's not and the reality is that a wing commander of the Indian Air Force just ended his own life. This is the truth that Indian media needs to show rather than their air force's false actions that never happened in the first place.
Arvind Sinha was involved in the strike last night.
According to the sources, the wing commander was involved in the actions carried out earlier today by the Indian air force that included violating the Line of Control and entering Pakistan. The operation was made unsuccessful by the Pakistan air force and the Indian jets were forced to go back by hasty response of the PAF jawans. Was this the reason this Indian wing commander took his own life because of the failure of this operation by the Indian Air Force?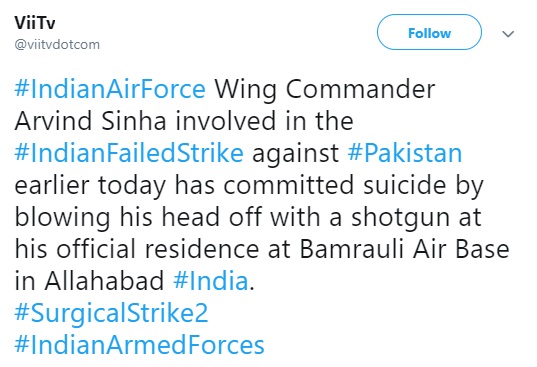 While India is too busy celebrating, this is what they need to talk about.

As it has been seen that India has successfully carried out an operation against our trees and managed to defeat them, we congratulate the Indian army on this act of immense bravery but this is what we need to talk about. An officer of the Indian air force ended his own life on the same day this happens. He ended his own life! Was he too ashamed of the failure that the Indian air force had to face today?
Or is there are a twist in the tale?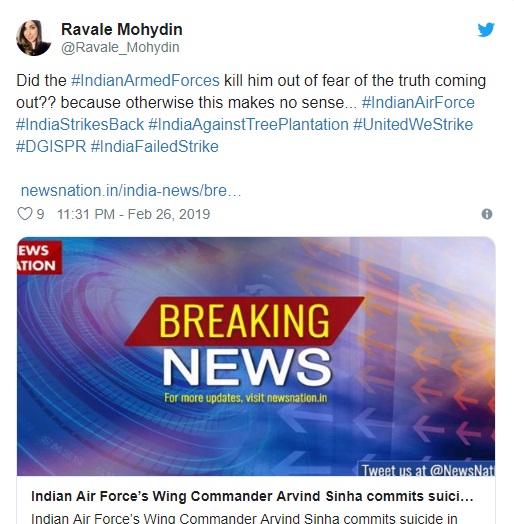 According to some people, there is a possibility of another angle. We leave it for you to figure out whatever may be the possible reason that this might have happen. On one side, the whole of India is celebrating the demise of innocent trees in Balakot claiming that they have taken down 300 men of the J-e-M. And the other side shows an Indian wing commander ending his own life.
It is not the first time that an Indian soldier has taken his own life, there have been such cases in the past as well. And Indians really need to focus on this rather than spreading false news about things that can only happen in their dreams and fooling their people into believing something they can never do. Pakistan Zindabad!