This post is also available in: English (الإنجليزية) اردو (الأردية)
The world we live in has turned into an absolute mess. People have not only become intolerant, but they have also become apathetic towards others. They take out their own frustration by bullying and harassing people who are weaker than them. However, the most saddening part is when those who are in an authoritative position begin to take advantage of their status and target those who are inferior to them.
Recently, Express News showed a video of a teacher beating his students terribly in a Madrassa, "Jama-e-Arbia Noor-Ul-Quran'' of Bahawalnagar. The teacher Qari Mohammad Abdul Saeed is seen assaulting his poor students as if he is not a teacher rather a cruel enemy who is torturing his victims. Have a look at the video:

The way he is beating and thrashing his students is absolutely monstrous. Once this video got viral over the news, the police became active and took immediate action against it. The culprit got arrested and is now behind the bars.
Moreover, the parents of the kids who were assaulted also are allegedly receiving consecutive threats from influential parties, for issuing the FIR against Qari Abdul Saeed. They have been threatened to keep their lips sealed so that the culprit may come out free within a few days.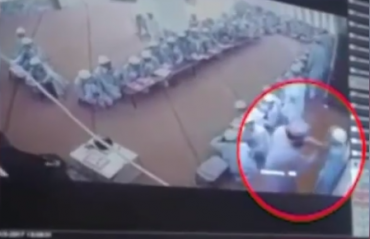 The government must take a serious action against such acts. The fact that this teacher is preaching in the name of God is even more horrifying because Islam gives us the message to spread peace and love among humans.
This was just one video that got leaked, resulting in the arrest of this man, however, there are so many teachers still out there who are beating and harassing their students' day after day. We need to understand the fact that raising your hand on anyone let alone on poor kids is inhumane. Here is hoping that strict action would be taken against such monsters.