This post is also available in: English (الإنجليزية) اردو (الأردية)
This is a warning to all those students who are willing and dreaming to be a part of DOW Dental College, Karachi:
The dental campus of DOW University is not registered in the Pakistan Medical And Dental Council (PMDC) and therefore, it must not be included as one of the recognized Dental colleges of Pakistan. It was inaugurated 6 years ago in 2012, but due to there internal matters and corruption in both, Dow Administration and PMDC the matter is still not resolved.
This puts the future of over 300 students at stake and moreover, no one is ready to take responsibility for this matter.
Two batches have already been passed out and the first batch had completed their house job but now they can't apply for jobs anywhere and remain unemployed for the last 2 months. If a campus is not registered in PMDC then the students are unable to apply for jobs, post graduation or scholarship programs.
The Matter Has Been Highlighted in Local Publications As Well
Yet no stern action has taken place against DOW and their registration concerns.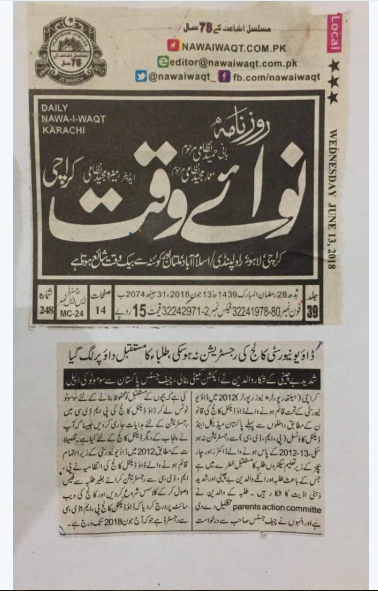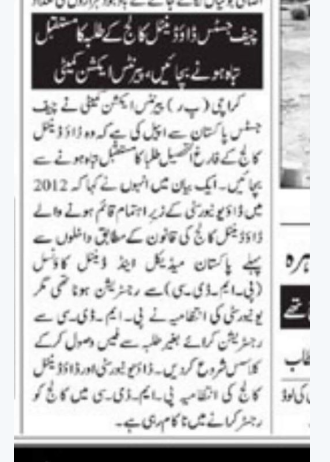 The per student fee at DOW is 70,4775rs per year. DOW enrolls 50 students per year, which makes their total earning of approximately of 37,038,750rs – equal to RS 37 crore. Despite the institute earning so much, they still have failed to register themselves with PMDC.
Be careful because the website of DOW UNIVERSITY OF HEALTH SCIENCES (DUHS) shows that DDC is registered but it is not.
These people are committing a crime by taking admissions in an unregistered campus (sitting under the shadow of a well-recognized institution DOW UNIVERSITY OF HEALTH SCIENCES) and arresting a large number of fees for the last 6 years.
We humbly request Chief Justice Sahab to take action and register the students of DOW Dental College or else there will be no future for these 300 students and more to come in 2018 admissions.