This post is also available in: العربية (Arabic) English (English)
Shahid Afridi continues to enrage Indians for the all right reasons. Our noisy neighbors have still not recovered from the damage when Afridi shot a couple of sixes in Ashwin's last over. They have found all the reasons to be against him, hate him and bash him on social media. But does Afridi care? Nope.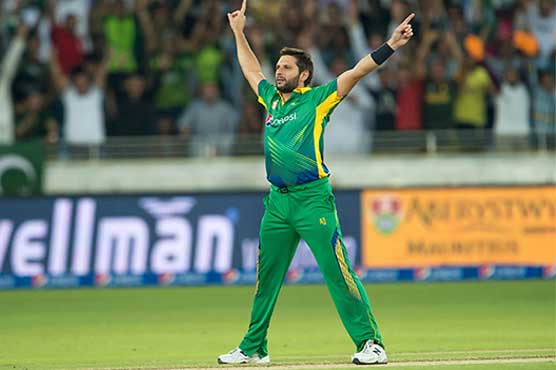 Shahid Afridi's tweet on the atrocities being committed in Kashmir and the meek character of the UN became food for his haters, especially those across the border. Afridi, who once hit the fastest century against India, had now become the villain for pointing out the obvious.
Here is what he tweeted the other day:
Appalling and worrisome situation ongoing in the Indian Occupied Kashmir.Innocents being shot down by oppressive regime to clamp voice of self determination & independence. Wonder where is the @UN & other int bodies & why aren't they making efforts to stop this bloodshed?

— Shahid Afridi (@SAfridiOfficial) April 3, 2018
And this is how Gautam Gambhir responded to Afridi's tweet:
Media called me for reaction on @SAfridiOfficial tweet on OUR Kashmir & @UN. What's there to say? Afridi is only looking for @UN which in his retarded dictionary means "UNDER NINTEEN" his age bracket. Media can relax, @SAfridiOfficial is celebrating a dismissal off a no- ball!!!

— Gautam Gambhir (@GautamGambhir) April 3, 2018
As usual, when it comes to India, Indian cricketers or Kashmir, Pakistanis simply reunite as a force and continue to defend the truth. Their support is reflected in every bit of action whether it would be knocking some sense in the opposition or simply trolling them for a good reason.
Now, as usual, Pakistanis did not hold back in trolling Gautam Gambhir for that matter…
ENJOYZ LEIN.
Gautam gambhir mocking #Afridi seemingly blind of the fact that directly or indirectly he is mocking the struggle of hundreds of thousands of Kashmiris who have scarified thr generations after generations by devoting their life to this movement. #AfridiWithKashmir

— Safiullah Khan (@Safiull91948041) April 3, 2018
Is Gambhir even relevant now?
Btw Afridi is bigger than Gautam Gambhir's existence.

— Abdullah (@abdullahmajeed_) April 3, 2018
LOOOOOOOOOOOOOOOL
Yeah I get your point. You're gonna lose Kashmir as you lost this match. pic.twitter.com/i4nfZBn0KR

— Hamzaa ? (@greatsince_98) April 3, 2018
Hah! Afridi vs Gambhir once again!
I'll just leave this here pic.twitter.com/Qkrpilxtz8

— Dennis Premier League (@DennisCricket_) April 3, 2018
Read it again
Few years back, I had gone to a shop, which was selling wall posters of cricketers in a village fair in Gambhir's 'our' Kashmir – There was no Gambhir, but mostly posters were of Afridi's! https://t.co/fZyBDxgB0v

— Ashok Swain (@ashoswai) April 3, 2018
Absolutely!
Every now and then Gautam Gambhir keeps reminding everyone why he is the biggest asshole the cricketing world has ever seen.

— Humayoun Ahmed Khan (@HumayounAK) April 3, 2018
HAHAHAHAHA
> Calls Shahid Afridi "retarded"

> Can't spell "nineteen" https://t.co/z0PBvh2yxj

— F (@xfareehax) April 3, 2018
Let us all say – NOTHING!
Man you have done nothing for your country. Afridi is not only a symbol of proud for ?? but for the whole Cricket World. Don't try to compare yourself with him you're nothing infront of him. I repeat "NOTHING". #AfridiInsultsIndia https://t.co/LHzy3oRXB9

— Raza Mehdi (@SyedRezaMehdi) April 3, 2018
OH.MY.GOD.
.@GautamGambhir tumhara khana lag gaya hay ajao pic.twitter.com/ZcwsyJtKhE

— A h m e d (@Ahlvled_) April 3, 2018
Gautam Gambhir should just go hide in a corner because this is literally true embarrassing. However, Indians across the border continue to support him and bash Afridi for everything he said. Let's not get too political about it. We only mean to highlight the banter that has been going on about it on various social media platforms.
Since Shahid Afridi and Gautam Gambhir has had a rough history and we all have seen that one iconic encounter between the two, it has become absolutely funny once again for us!