This post is also available in: English (الإنجليزية) اردو (الأردية)
It's not very uncommon in Pakistan if you come across a road that has been blocked or you see burning tires on the streets. Violent protests have been the way government and other institutions in Pakistan have been forced to succumb to the vast range of the demands that come with these protests.
Even though there is an abundance of spaces where you can rent cars for your use, some people in the country also provide the opportunity of renting violent mobs.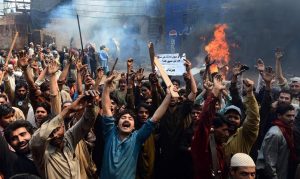 For adherence to their valid or invalid demand, influential people in Pakistan have been using the tool of hiring mobs, which can range up to 500 people. Even though the concept had been discussed in the past, no proof of this charade had ever been brought out, until social activist Nighat Daad released a video about it on her social media profile — courtesy of journalist Saba Eitzaz.
From armed men to unarmed protesters, these mobs block roads, burn tires and properties, ambush government departments and are willing to do anything you want. In this undercover video, the mob owners showcase diaries full of numbers of people, who are arranged on special occasions to protest and riot on different issues.
The mob owners also tell that people use these mobs not just for social, but religious and personal purposes as well. These mobs block roads shut down railway proceedings and even block highways. One mob owner also stated that there is no verification provided pre-hand, so the mob can be used for any purpose, which the person hiring feels fit.
These protests and riots lead to huge losses for the national exchequer, subdue daily routines and even lead to the deaths of children and people, becoming barriers in the way of ambulances. These protesters can even be hired for sit-ins (dharnas), subject to them being paid handsomely and food being provided regularly.
Pakistan is a country where the influential and powerful people who have a lot of money to spare, can do anything and get away with it, without the issue being linked to their name. As for these rented mobs, who is responsible for putting an end to them?