This post is also available in: English (الإنجليزية) اردو (الأردية)
A three-day anti-polio drive kicked off in Khyber Pakhtoon Khwan province on Monday. The campaign against polio was going smoothly until a group of people drove false propaganda and provoked the area residents with fake videos to lure support against the drive.
According to the details, thousands of polio workers were supposed to visit schools and madrassahs for administering the oral polio vaccination to children between five to ten years of age. The drive took an interesting point when a few children were brought to Maulvi Jee Hospital of Madina Colony situated at GT Road with complaints of diarrhea, nausea, and headache. The news spread like a wildfire in Peshawar and parents rushed to the hospitals for their children's checkup. Basic Health Unit in Mashokhel village was set on the fire by the protestors.
Denying the false claims, Khyber Pakhtoon Khwan Health Minister Dr. Hisham Inamullah Khan said in a press conference that no child was being harmed during anti-polio vaccine drive. He debunked the reports according to which 75 children fell ill in Badhber on Monday. Due to psychological effects and panic, children got nausea and headache.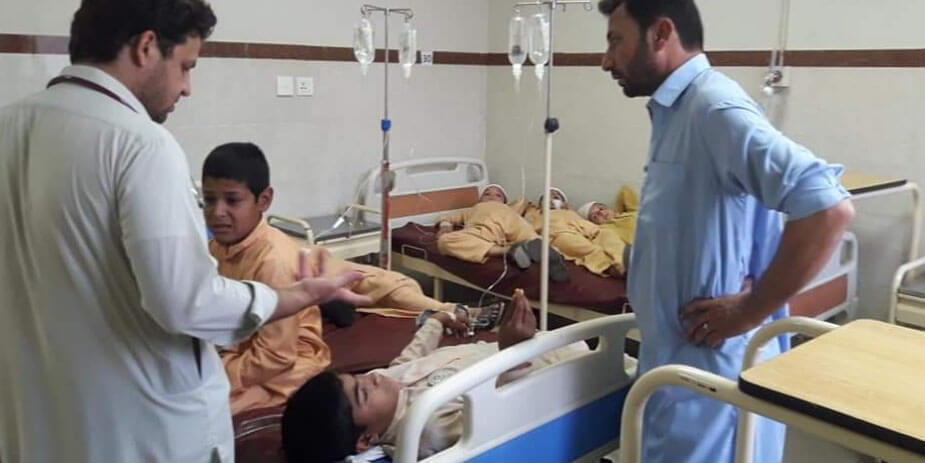 On the other hand, Focal person to Prime Minister Imran Khan on polio eradication, Babar Atta shared different videos and exposed the people behind this scripted drama. It can be seen in the video that a man is asking children that they should act as if they are ill and they are being shifted to the hospital.
In another video, a person can be seen lamenting that if they don't get their children vaccinated, police would catch them and if they do, their children would fall ill. In the video, the man instructs the boys dressed in school uniform to lie on the hospital bed and pretend to be unconscious. The kids followed his instructions and acted promptly.
Watch The Complete Video Here!
This Whole Drama Restores Parent's Faith On Anti-Polio Drive And They Are Expressing Their Gratitude For KP-Government
This Is What Fear Does To You!

People Believed On The Rumors And It Created Panic!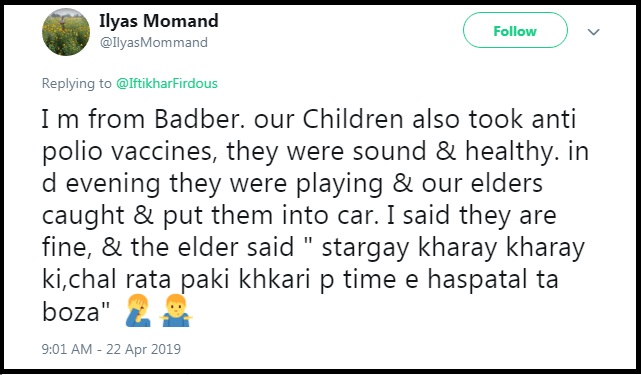 Parents Thanked Babar Ata For His Timely Response!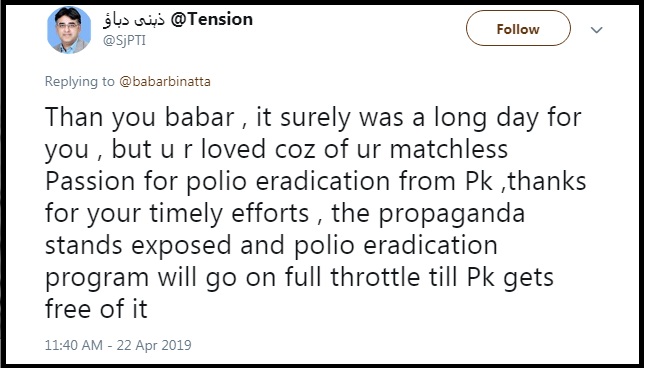 Due To The Efforts Of KP-Police, The Man In The Video Has Been Taken Into Custody!
Mr. Nazar now in the custody of Peshawar Police. Obviously he has a different story to tell now. Nevertheless, more arrests to follow tomorrow. InshaAllah

Over & out from Peshawar. Good night everyone. Remember one thing: POLIO VACCINE IS COMPLETELY SAFE ?. pic.twitter.com/VJimHC4o7i

— Babar Atta (@babarbinatta) April 22, 2019
Emergency Operations Coordinator (EOC) Capt (r) Kamran Afridi rejected the news circulating on social media linking children's condition with the anti-polio vaccine."It was reported that children from two private schools in Peshawar fell sick due to the polio vaccine but that is not true. The children are in stable condition. The same vaccine stock was used in other areas too and was found to be completely effective with no adverse effects," clarified Afridi.
It is sad to know that our people still show resistance to anti-polio drives and believe in a myth that the two-drops of this vaccination may harm their children. KP-government should not punish the culprits of the recent drama only, they should look into the matter at the local level and break the stereotype linked to the polio vaccination.