This post is also available in: English (الإنجليزية) اردو (الأردية)
So yesterday was a good day on the Indo-Pak internet when Pakistani Prime Minister Imran Khan tweeted a message that he said was sent by the Indian Prime Minister Narendra Modi. People really had absolutely wonderful reactions and some literally went on to say, "bhai screenshots tou dikha". Well, we really do live in a world where screenshots are the biggest pieces of evidence in any situations and they really are considered the ultimate proofs. But keeping that aside, Indian PM's message included greetings and best wishes to the people of Pakistan on our national day.
The message sent.
The message that was sent by PM Modi, according to PM Imran Khan, wished and greeted Pakistanis on their national day that is 23rd March. And PM Modi further expressed his thoughts on India and Pakistan working together democratic, peaceful, progressive & prosperous region which definitely is totally unlike Modi; seeing how aggressively he was bashing Pakistan in his earlier speeches following the Pulwama incident.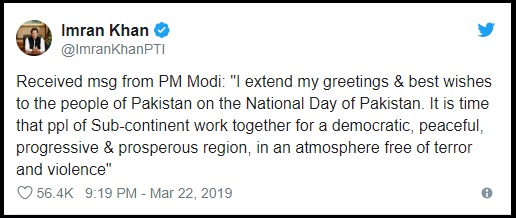 Well, Indians called their PM a drama.
This guy asked how can one take PM Modi seriously when he is sharing greetings with PM Imran and on the other hand boycotting National Day celebration at Pakistan High Commission in New Delhi? It's okay man, a little hypocrisy never hurt anybody. No wait, it actually did. Never be a hypocrite.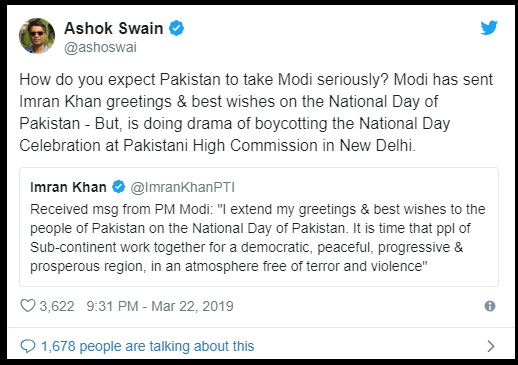 Secret tha yaar…
Oh well Imran. It really does seem like Modi never expected our prime minister to actually share on his twitter the whole message that he sent. But well PM Imran Khan did share it and a may have exposed Modi's little double standards. It's alright Modi, the world is never fair and you know that.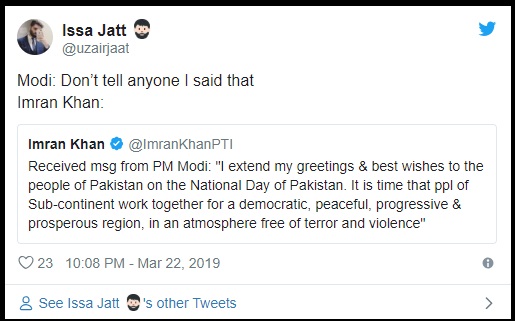 Poor Sidhu.
Well, Navjot Singh Sidhu has his own concerns. Tum karo tou dance hum karain tou mujra? Tum karo tou greetings hum karain tou anti national?
Modi Sends Greetings To Imran Khan on the eve Of #PakistanDay ..
Siddhu Be Like…? pic.twitter.com/738iAE3oiD

— Muhammad Rizwan (@_Rizwan90) March 23, 2019
SCREENSHOTS!
Okay, Imran lets just post the screenshots too. People really don't believe anything you say unless you show them the screenshots.
Screenshot dikha ?

— Gabbbar (@GabbbarSingh) March 22, 2019
Arnab what the hell.
This is true. There is nothing truer than this. Just shows the reality of the Indian media.
* Siddhu talks about peace *

Arnab – How dare he? He should go to Pakistan. Shame on him. #BoycottSiddhu

* Modi Greets Imran Khan on Pak's #NationalDay *

Arnab -What a kind gesture by PM Modi ,Pak on backfoot? Should opposition apologise for doubting Modi's peace intent?

— Roshan Rai (@RoshanKrRai) March 22, 2019
This was a nice gesture by Prime Minister Modi wishing Pakistanis on 23rd March and hoping India and Pakistan move together for a progressive and hate-free region. This gesture is not a victory or loss for anyone and should be taken absolutely positively by both nations because this is how leaders and countries should be, peacefully.