This post is also available in: English (الإنجليزية) اردو (الأردية)
The recent New Zealand incident has left the world in a state of shock. An armed man opened fire in two different mosques in Christchurch, New Zealand. The man took the lives of 49 people and leaving many injured. The incident took place around 1:40 PM on Friday and as per the information, the guy had mentioned all his planning on Reddit, 24 hours prior to the incident which was utterly shocking!
What's sickening is that the heartless mastermind went live on Facebook to film this tragedy so that thousands of people could witness this heinous crime! However, while all this was happening, a Pakistani man tried to disarm the Australian guy, who then opened fire at him.
According to news, the brave Pakistani man was identified as Naeem Rashid who tried to stop Brenton Tarrant after he had entered the mosque. However, he was left badly wounded during the attempt. Naeem is now being praised globally for his heroic act of sheer bravery and resilience. Naeem was immediately rushed to the hospital but unfortunately lost his life.
Naeem is now being praised globally by people all around the world!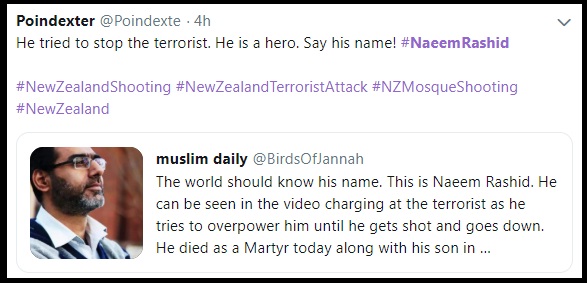 Brave and fearless!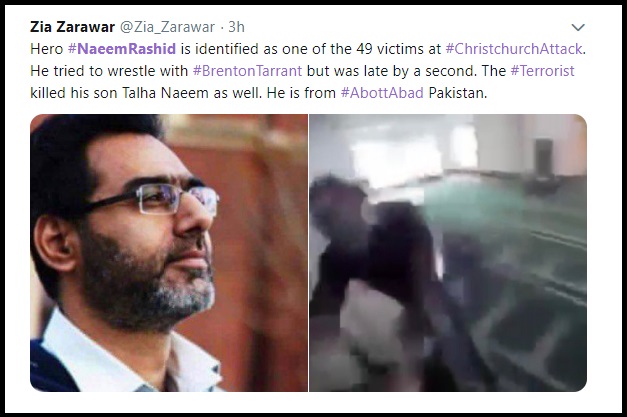 Looking further into details, Naeem Rashid belonged from Abbottabad, Khyber Pakhtunkhwa and worked at a private bank before he had migrated to Christchurch, New Zealand. According to sources, he was the son of a very brave woman who lost her first son to a fire many years ago. Naeem's mother works day and night for the orphans and widows in Abbottabad. Also, during this tragic incident, Naeem's 21-year-old son, Talha also lost his life during this incident.
Indeed a hero!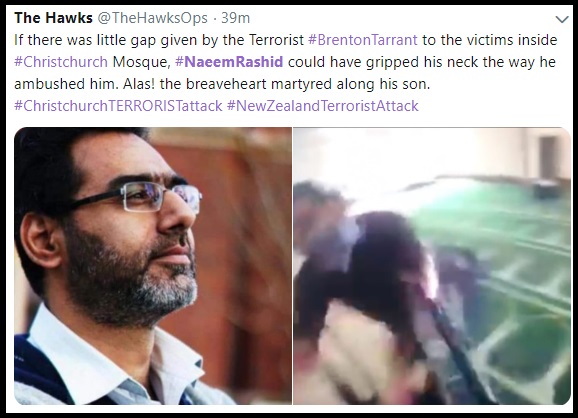 Naeem Rashid, you will always be remembered for your bravery!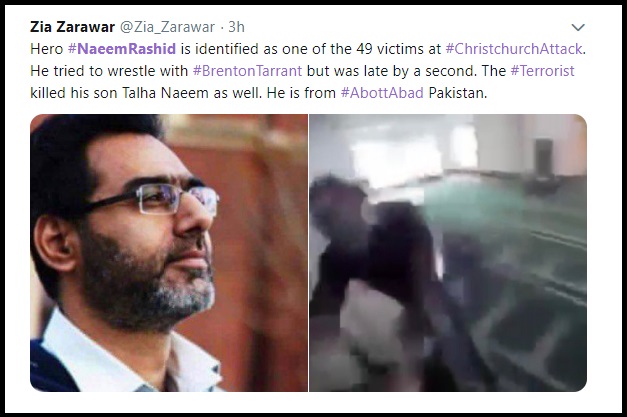 For those who wanted to see Naeem push the guy to save the lives of others present in the Mosque, here's the video of Naeem!
Not only this but famous American comedian, Jeremy McLellan and his followers also praised Naeem for his bravery! It is indeed unbelievable to see how millions of people are praying for the victims!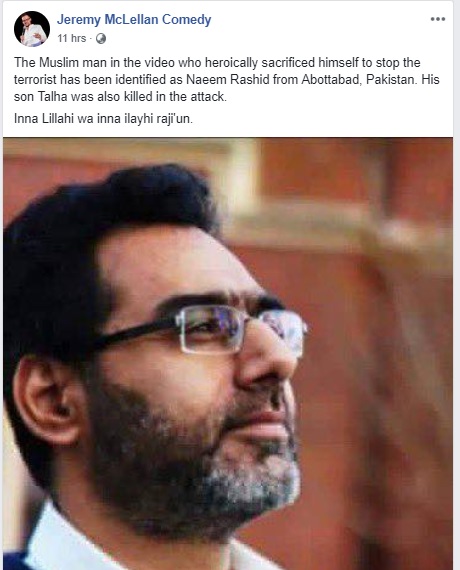 Hurting innocent souls cannot be justified in any way. For all those who blame Muslims for such incidents, we need to get one thing straight here – No religion supports such horrendous acts by these sick-minded people and it's high time we understand this for once and for all.
Our heart goes out to all the victims and their families. May Allah (SWT) give you the strength and patience to bear the loss and we hope that justice is served!
Do you have more to add to the story? Let us know in the comments below!