This post is also available in: English (الإنجليزية) اردو (الأردية)
Additional Inspector General (AIG) Karachi Police, Dr. Amir Sheikh has suspended the Superintendent Police (SP), Gulshan Tahir Noorani for threatening the father of Nashwa, the nine-months-old girl who suffered due to the negligence of Darul Sehat Hospital's administration.
According To Nashwa's Father, The Hospital Gave Her An Injection Shot Instead Of A Drip!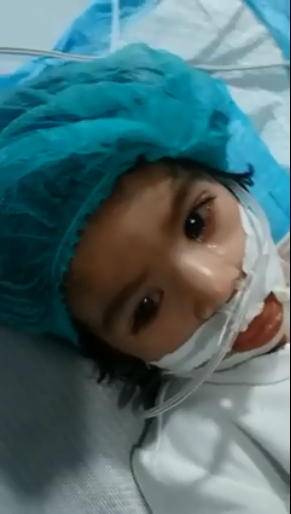 In a Facebook post, Nashwa's father wrote that he brought her to the hospital with a minor stomach ache but due to the negligence of incapable hospital staff, his daughter is facing a life-threatening situation. Instead of a drip, the hospital staff injected the shot and all of a sudden Nashwa stopped responding to anything and got paralyzed.
The Incompetent And Inattentive Hospital Is None Other Than Dar-ul-Sehat!
According to the hospital administration, Nishwa had Gestro problem and she was given Potassium Chloride Injection. After this injection, her heartbeat went high and she felt difficulty in breathing. After which she was immediately shifted to a ventilator. But it has been a week since Nashwa was put on a ventilator, her condition is getting even worse.
Qaiser Ali – Nashwa's Father Receive Serious Threats When He Went To The Police Station For Filing The Complain Against Dar-ul-Sehat Hospital
Instead of taking action against the culprits, Superintendent Police Gulshan – Tahir Noorani threatened the father of Nashwa with severe consequences over raising voice against criminal negligence of the hospital. Qaiser Ali told the media that he received direct threats from the high ranking police officer, who forced him to withdraw his demands for action against the hospital. Ali further said, "The SP told me to think thoroughly before taking further action. He threatened me with severe consequences and said if you registered a First Investigation Report (FIR) you would get nothing."
And then a video was making rounds on social media in which it can be seen that Qaiser Ali was sitting in the hospital with many people around him. SP Gulshan Tahir Noorani is kept telling him to think thoroughly before filing the case against the hospital and convincing him to step back.
Watch The Complete Video Here!
"In Ka Kuch Nahi Hoga Nuqsan Tumhara Aur Tumhari Family Hoga" , SP Gulshan Tahir Noorani Ki NASHWA Ky Walid Ko Dhamki.??

Posted by Karachi – The City Of Jinnah on Monday, April 15, 2019
But Soon After The Video Went Viral On Social Media, AIG Police Suspended SP Gulshan!
The video where SP Gulshan Tahir Noorani is telling Qaiser Ali to withdraw the case against the hospital administration and 'the hospital wouldn't suffer, instead, you will bear the brunt of problems…', was shared all over the social media platforms and soon after that, AIG Karachi Dr. Amir Sheikh suspended SP Gulshan Tahir Noorani and ordered the authorities to complete the case inquiry within 48 hours.
Adviser to Chief Minister Sindh on information, Murtaza Wahab, has also taken notice of the family being threatened by the police. He said to have directed the police to probe a thorough investigation into the matter.
It is good to see that atleast people raised their voice against the heinous crime of the hospital and demanded justice for Nashwa. All the prayers for Nashwa's speedy recovery we hope we get to see her smiling again, InshaAllah!