This post is also available in: English (الإنجليزية) اردو (الأردية)
All we have seen recently is tension, situation worsening at the border, more casualties and nothing good between the two countries i.e India and Pakistan. And among all the news that comes flying bringing with it a ray of sunshine of hope and happiness and rainbows and butterflies. This guy named Parvinder Singh from Ambala, India got married to a Pakistani girl, Kiran Sarjeet Kaur. This is no doubt one of the better news to have come out of the recent situation between India and Pakistan.
Spreading love and not hate taken to the next level.
It can be deemed true that love really knows no boundaries and Parvinder and Kiran are the perfect example of that. Pakistan and India have been in a very crucial situation following so many tensions after the Pulwama terror attack and threats of violating peace from both sides. And so, this couple decides to break all the stereotypes and not care about anything at all and spread nothing but love. Keeping love out of political wars.
Keep love out of political wars! Peace ??

— Rahat Dhir (@DhirRahat) March 9, 2019
From Sialkot to Ambala.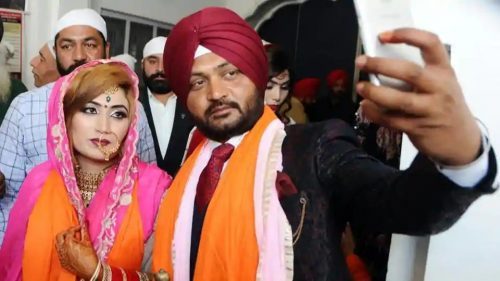 The two of them were engaged in 2016 when Kiran visited her maternal uncle's house in Patiala. Kiran belongs to the Sikh community in Pakistan as her family chose to stay back in 1947. Parvinder, on the other hand, hails from Tepla Village of Ambala. The two got married according to Sikh traditions in a simple ceremony. Kiran's family arrived in India on a 45-day visa. Parvinder stated that "I am happy. Now, I request that the Indian government to grant a visa to my wife for Ambala so that she can stay with me at my parental house. Presently, she has a visa only for Patiala, thus I have taken a house on rent at Patiala to stay with her. I do hope that the Indian government will resolve this issue at earliest," he said.
The situation between India and Pakistan was pretty bad and everyone thought they were going to go against each other in the field especially in the Sialkot sector. The most beautiful irony of this marriage is that the girl belongs to Sialkot in Pakistan and this marriage has hit all the right spots. We hope this sends a positive message across both countries and we wish the couple the happiest life ahead. First, a boy from Sialkot brought a girl from India, now a boy from India brings a girl from Sialkot. Keep up the good work, Sialkotis 😉