This post is also available in: English (الإنجليزية) اردو (الأردية)
For the cricket loving nation, Pakistan Super League is more than just a series of T20 matches. From the last 32 days, the colorful event which was making Pakistanis smile came to an end yesterday. The finale of Pakistan Super League Season-4 held on Sunday at National Stadium Karachi between Quetta Gladiators and Peshawar Zalmi with a star-studded closing ceremony.
The powerful performances by Junoon, Aima Baig, Fawad Khan, and Abrar-ul-Haq charged the crowd before the match. COAS Major General Qamar Jawed Bajwa, DG ISPR Major Abdul Ghafoor, President of Pakistan Arif Alvi, Governor Sindh Imran Ismail, CM Sindh Murad Ali Shah were there in the stadium as well to watch the match.
Among Other Memorable Moments of PSL-4 Final, Watson-Imam's Heated Exchange Of Words Made The Cricket Fans Angry!
Darren Sammy's Zalmi made an easy score of 139 runs with a loss of 8 wickets. Chasing the target, former Australian all-rounder Shane Watson and Ahmed Shahzad opened the innings for Quetta Gladiators. When Shahzad took a quick single to short cover in third over, Watson wasn't able to make his ground and comfortably run out by Umar Amin. After the stumps were broken, Watson headed to the pavilion as he knew the decision already. On his return to the pavilion, Inzimam-ul-Haq's nephew and opening batsman of Peshawar Zalmi exchanged words with him.
You Can See In The Video That Who Is Misbehaving!
Imam-ul-Haq gave the 37-years-old international player a send-off but when the other players of Peshawar Zalmi came near them, Imam stepped back. This unwelcoming gesture of the only Pakistani player who scored a century in his debut in Sri Lanka is being criticized on social media.
Crickets Fans Are Demanding From PCB To Take Legal Action Against 'Parchi Boy'
Imam-ul-Haq Has Been Renamed As Imam-Parchi…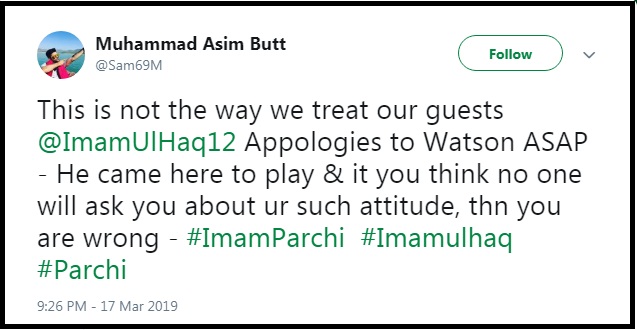 'Parchi Of The Tournament'
His Fans Are There As Well To Support Him!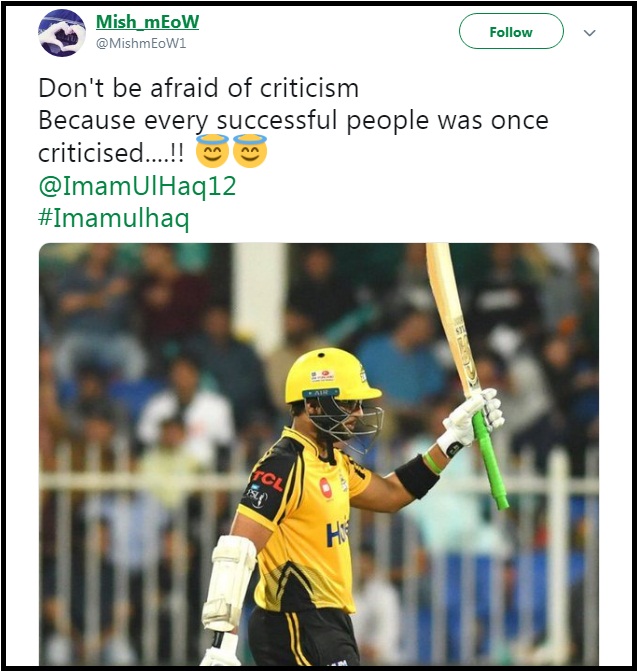 Thank you, Shane Watson!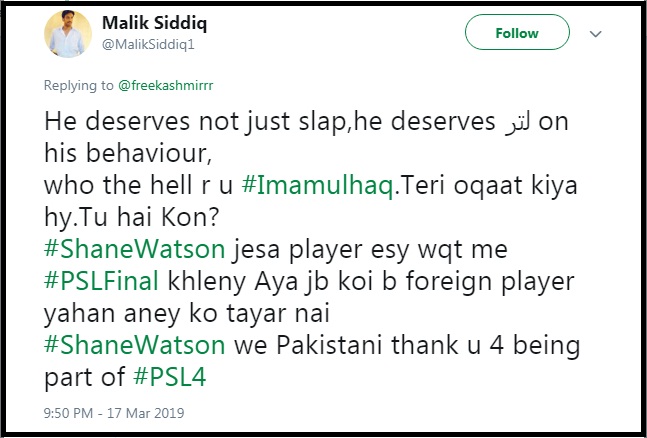 Imam-ul-Haq, Why Would You Do That?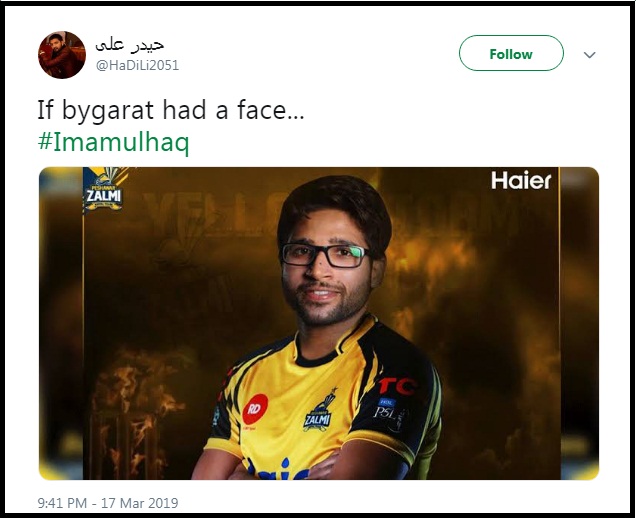 Well, victory speaks for itself. Despite the run-out, Shane Watson had the last laugh! South African Rilee Rossouw scored an unbeaten 39 off 32 as Quetta avenged its loss to Peshawar in 2017 final. Having scored 430 runs at 43.00 in PSL, Watson was crowned both players of the tournament and batsman of the tournament.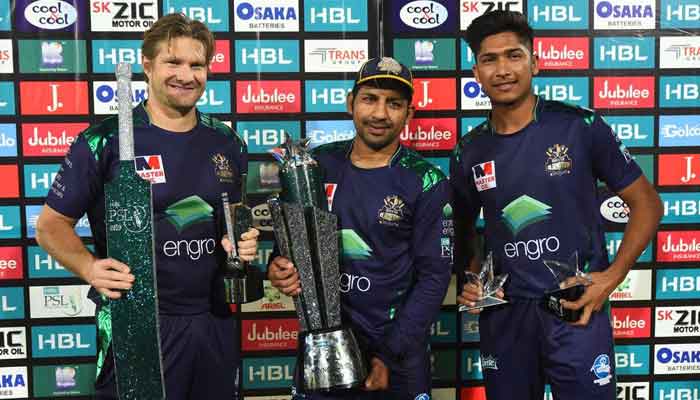 According to the details, more than 250,000 spectators were in the National Stadium Karachi on Sunday. In this season, 26 matches took place in the United Arab Emirates but Pakistan Cricket Board Chairman Ahsan Mani announced that the all the matches of next season of Pakistan Super League will be played in Pakistan. PCB Chairman Ahsan Mani thanked all the international players for coming to Pakistan for the last leg of PSL Season 4.
Do you want to add more to the story? Share your thoughts with us in the comments!