This post is also available in: العربية (Arabic) English (English)
Captain (Retd) Safdar flew from London to imminently arrive in Pakistan. Speculations about his immediate arrest rose to height and now it has been confirmed that Captain Mohammad Safdar has been arrested as soon as he landed at the Benazir Bhutto Airport, Islamabad from London. Meanwhile, Maryam Nawaz left for her house and is set to appear in the NAB court on Monday regarding the hearing of all 3 NAB references related to the Panama case.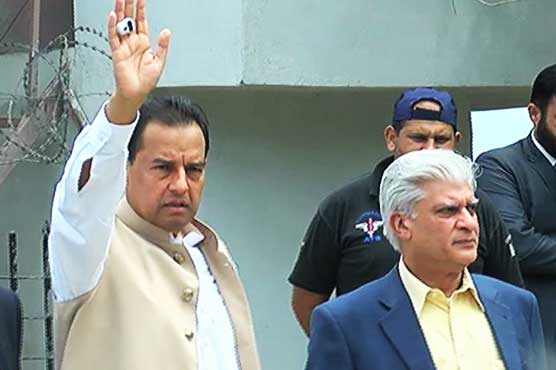 The news of Captain Safdar's arrest has been the hot topic since morning. Pakistanis are glued to their televisions and smartphones to receive updates. It has not hit well with the pro-Nawaz Sharif lot as they continue to express their anger and resentment over the matter. The National Accountability Beaurue of Pakistan took immediate action against Captain Safdar and long before any proceedings, he was shackled in handcuffs. As he got arrested, the Pakistanis on Twitter were up to some quality banter!
You can't miss how Pakistani people reacted to the news…
Of course!
For all those who don't know why Captain safdar is being arrested:
He had been proved a fraud. pic.twitter.com/68De9GcWyC

— چڑیل_اول✨ (@Churail_Awal) October 8, 2017
SAVAGE
At one side Captain Safdar got arrested and at other side his wife Maryam Safdar showing victory sign ? Irony!

— Meh Wish ?? (@KhanXkuri) October 8, 2017
WOULD THEY?
After captain Safdar 's arrest , lot of patwaris submitted their CVs to MaryamN , ?

— arshad syed (@arshadsyed001) October 8, 2017
ARE YOU KIDDING ME?
Millions of PML(Na'Ahl) supporters reached NAB against Captain Safdar arrest. ? pic.twitter.com/KSmmiMCQGe

— Abbas Syed (@syed_zk) October 9, 2017
LOOOOOOOOOOOOOOL
New larvas are out of the egg. https://t.co/fwVOkzM0w2

— Junaid Akram (@junaidakram83) October 9, 2017
HE HAS GOT A POINT, SERIOUSLY.
The Great Pakistani Political Circus Continues….National embarrassment with International audiences…

— Fakhr-e-Alam (@falamb3) October 9, 2017
THIS!
Rest of the channels: Capt Safdar ko NAB ne hirasat mai le liya.

ARY: 'NA-EHL WAZIR-E-AZAM KE DAMAAD CAPT SAFDAR GIRAFTAR'.

— nma. (@namaloomafraaad) October 8, 2017
Rhymes so well
Na'ehal Ka Damad Captain Safdar Arrested by NAB.. ??

— مائـرہ اســرار (@mairaa_israr) October 8, 2017
We might see him doing that a few hours from now on because he's out
So now Captain Safdar will come out of arrest tomorrow morning and he will announce that it is an attack on ideology of Pakistan

— Farhan K Virk (@FarhanKVirk) October 8, 2017
OH SHOOOOT
And that is called

"Shadi ky side effects"

???

— Toor_Zan (@Toor_zan) October 9, 2017
Recent update: Accountability court releases Captain Safdar on bail
Shortly after the arrest of Nawaz Sharif's son-in-law, an official bail of Captain Safdar was presented before the court. NAB's request is to confiscate Captain Mohammad Safdar's passport and also ordered him not to leave the country without the permission of the court.
This is the latest update on the whole matter for now. We shall find out what proceedings it takes further. Share your comments on the story.