This post is also available in: English (الإنجليزية) اردو (الأردية)
The spokesman for the Pakistan Army rejected India's fresh claim that it downed a Pakistani F-16 fighter jet in February's aerial dogfight between the two countries, saying that "repetitions don't make a lie true."
On Monday, authorities of the Indian Air Force again stated they had "irrefutable evidence" that Pakistan used a fighter jet F-16 in the dogfight and downed its MiG-21 Bison.
Director-General of Inter-Services Public Relations Major General Asif Ghafoor tweeted."Repetitions don't make the truth of a lie. Despite claiming possession of evidence on downingF-16, IAF still short of presenting it. Don't overlook Pakistan's silence for not drum beating losses on the Indian side. Fact is that PAF downed two IAF jets, wreckage is seen on the ground by all,"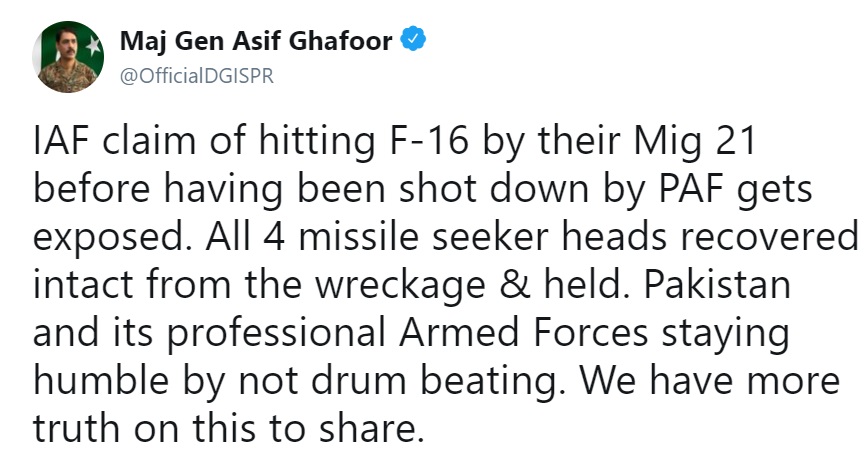 The DG ISPR responded to a news conference by Indian Air Vice Marshal RGK Kapoor who stated on Monday that "the IAF has irrefutable proof not only that Pakistan Air Force used F-16 on February 27, but also that an IAF MiG 21 Bison downed a Pakistan Air Force F-16."
The reiteration by India comes after two senior US defense officials with direct knowledge of the situation told Foreign Policy magazine that US personnel recently counted Pakistan's F-16s and found none missing.
Furthermore, India's refutation comes when two senior US officials with direct knowledge of the situation told Foreign Policy magazine that US staff recently counted the F-16s from Pakistan and discovered none missing.
The count, performed by US authorities on the floor in Pakistan, casts doubt on India's version of events, suggesting that the rest of the world may have been deceived by Indian officials.
Following the Pulwama incident, Kashmir invaded, tensions soared between India and Pakistan. India blamed Pakistan for the Pulwama without submitting any proof. Pakistan has strongly disproved the claims.
People had their own feedback to the above tweet.
Some talked about the brave heroes of Pakistan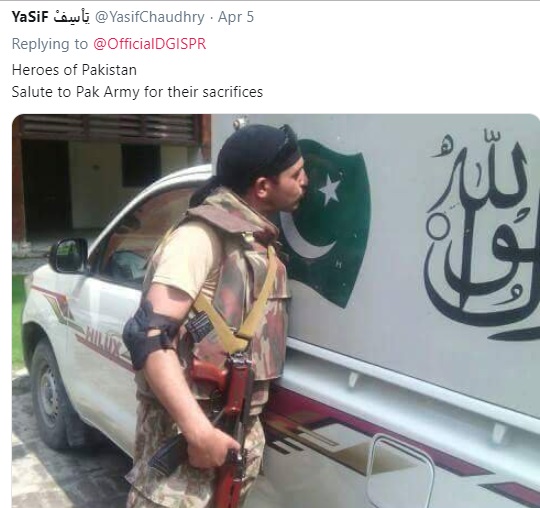 Another wrote that Modi is only making a fool out of his nation
What's your take on this? Share with us.

Another user complimented Major General Asif Ghafoor

In response, India said it carried out on February 26 air strikes on what it called a training camp at Balakot inside Pakistan.
The Indian government was quick to take credit for a "successful" move. Pakistani officials, as well as the locals, rejected the claims, inviting local and international media to visit the site of the so-called incident where around a dozen trees were the only knocked down.
The Pakistan Air Force, in retaliatory action, downed two Indian aircraft the next day, taking as the hostage of the Indian Wing Commander Abhinandan who was then released as a peace gesture by Pakistan.
In conclusion, we still have more to figure out on this and waiting to hear from  Major General Asif Ghafoor. If you have anything to add to this story, let us know and enlighten us with your take on this entire situation that has been going on and how India is accusing Pakistan with various actions we didn't take.