This post is also available in: العربية (Arabic) English (English)
Pakistan has finally decided to approach the Swiss government and the ambassador for the issue of an anti-Pakistan protest. Recently, in Geneva, a «Free Baluchistan» movement was started by a banned organization as declared by Pakistan. However, this is not the only time that this organization has come forward with such an «anti-Pakistan» stance.
«Baluchistan House» is one of many organizations that have been rightly banned by Pakistan for its threatening protests and slogans to the sovereignty and integrity of Pakistan. Just last year, the organization led a similar movement in order to supposedly highlight to the world the «unjust claim and atrocities by Pakistan on Balochistan and its people.»

Ironic to see how Indian tourists take interest in this organization while neglecting how their own government has posted greatest number of active soldiers on a disputed territory, Kashmir. This time, the Indian and anti-Pakistan leaders of this organization has launched a «Free Baluchistan» movement in Geneva. Billboards have been painted with such slogans, and digital advertisements are being run to support this campaign.
However, Pakistan has decided to take action against such acts of aggression on a foreign land by appointing its ambassador to look over the matter. Farukh Amil, Permanent Representative of Pakistan to the United Nations (UN) and other international organizations has sent a letter to the UN requesting to strictly deal with the matter. Here is the letter below: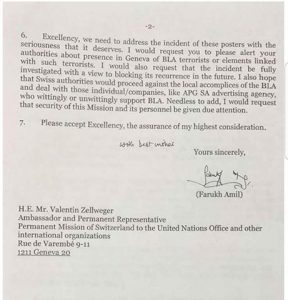 Farukh Amil has asked the concerned authorities to help in dealing with this matter as private advertisers are also involved in this. The Balochistan Liberation Army is also suspected of carrying out this campaign, and Pakistan's ambassador has made it clear that the Swiss authorities should deal with these terrorist organizations swiftly.
Balochistan is the largest province of Pakistan by size, smallest by population and density. It has a representation in both the houses of federal parliament as according to the constitution. Pakistan is fully aware of the foreign elements that are working to break Pakistan into smaller pieces and that is why it is most important that the people stay together rather than turning on each other in order to support the security forces working in the province to improve its condition.