This post is also available in: العربية (Arabic) English (English)
The Grammy Award-winning, Chammak Challo singer, Akon who rules the heart of many will be performing in Karachi and Lahore in April between 26th – 29th and with the football line up combined with the concert, we're expecting something really entertaining.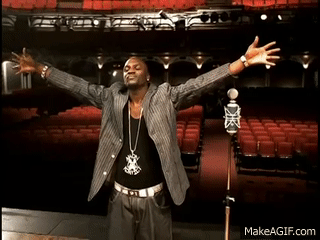 The celebrations kicked off with the 2019 World Soccer Stars in April for which Football legends Ricardo Kaká and Luis Figo arrived in Karachi on Thursday, a recently-released press statement revealed that the 'I Wanna Love You' singer will also be arriving in Karachi and Lahore to perform concerts between April 26- 29 this year.
Traditional weclcome for @LuisFigo and @KAKA as they arrive In Karachi. Both the legends were presented Ajrak and Sindhi Cap. pic.twitter.com/KLSFMDehlf

— Faizan Lakhani (@faizanlakhani) January 10, 2019

The 44-year-old singer said, "It's time to rock Pakistan, I am looking forward to visiting Karachi and Lahore with TouchSky Group. So let's get it down in Pakistan with World Soccer Stars."
British Deputy High Commissioner Karachi and UK Trade Director for Pakistan Elin Burns said: "I am delighted that so much progress is taking place in the UK-Pakistan relationship this year. 2019 is geared up to be a historic year of collaboration between the UK and Pakistan in trade, education, sports, and music. This is a testament to the UK's commitment towards Pakistan's prosperity. The UK based TouchSky Group shares our vision of supporting Pakistan and showcasing the many positive aspects of Pakistan to the world."
Akon's shimmering, soulful voice has propelled countless hits across many genres, such as Right Now (Na Na Na), Smack That and I Wanna Love You. All these songs just take us back and it's like a walk on a memory lane.
Check this out!
It's great how Pakistan is now becoming a place that brings all the international stars and puts together something terrific for us all to enjoy! A star like Akon has done some wonders with his work and has the masses wrapped around his fingers when he steps on the stage. His concert is something that you just can't miss!
He is yet another highlight of this entire event that will be taking place and we'd suggest that you don't miss this once in a lifetime opportunity to celebrate Pakistan's new era of music and football, all being celebrated under one roof. Could this get any better?
Don't forget to save the date for this grand event that will be the epic scale in Pakistan's history. Let us know how excited are you for this grand affair and whether you can hold you excitement, because we certainly can't!