This post is also available in: English (الإنجليزية) اردو (الأردية)
Abhinandan's 24-hour stay in Pakistan has created a so much craze, that the humble treatment with the Indian pilot made people question, what would be Imran Khan's next move?!
The whole fiasco of how Pakistan was blamed for the Pulwama terror attack and India entering our air space with IAF! Pakistan air force was shamed for letting IAF go without replying them. But yesterday when the IAF came back, Pakistan was waiting for their move and in result Abhinandand, the Indian pilot was taken into Pakistan's custody.
Senate and National Assembly of Pakistan held a joint session today and in it, PM Imran Khan announced that showcasing it as a Peace Gesture, Pakistan would be releasing Abhinandan tomorrow, on Friday!
JUMMAH MUBARAK INDIA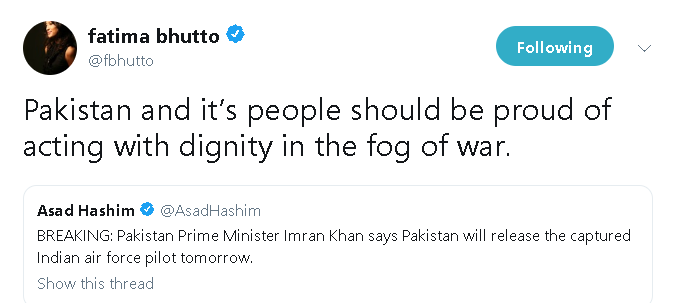 This goodwill gesture of Imran Khan is making every Pakistani super proud, that even after the whole charade that went on the last two days, Pakistan is STILL promoting peace.
Ever since the news broke out, Pakistanis on social media have been congratulating the Prime Minister and stating how happy this move has made them. The statement of the PM was backed by all the legislators present in the joint session, further showing how this whole fiasco has brought the politicians of Pakistan together.
However, on the other hand, Indians on social media have been divided in their opinion. While some are thanking Pakistan for this gesture, others, are stating that Imran Khan took this action as a result of 'pressure' from the international community.