This post is also available in: العربية (Arabic) English (English)
While the country constantly tries to battle different measures of VIP treatments and protocols given to the influential people of the country, something or the other happens after short intervals that are bound to cause outrage.
Recently, a social media post went viral against a local airline that served VIP treatment to Pakistan Peoples Party's Senator Sherry Rehman. According to the person involved, Senator Sherry Rehman was forcefully given a seat that was already booked for someone else.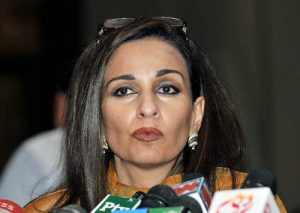 «Checked into Islamabad airport with family today on 24/08/17, we were flying Serene Air, ER503 at 4 pm, got boarding passes for pre-assigned seats 2C,2D,2E,2F and headed to the departure lounge. 30 mins later my elder son Muhammad's name was announced and when I approached was informed that we have to change his seat with 4F, I refused and the guy left.
Then came the supervisor and she told me there has been a system and we have been wrongly assigned seat 2C. I asked her how come error is in the same series as other seats, I said that I am sure they want to assign my son's seat to a VIP, she had no answer so I refused to change and the lady left again to come back with another lady who checked us in and again same story started, when I asked for proof there was none and finally the lady told me about how difficult it is for a woman to come to work and that she has a family to support requested me to help her.
I asked her to tell me real story and then she told us that Muhammad's seat has been assigned to #Senator #SherryRehman. She requested for help otherwise she would be in trouble so I handed over Muhammad's boarding pass. This is not something unusual in Pakistan and every single VIP has a sense of entitlement as they think they are a superior class! What is even more shameful that our own people like the staff of #SereneAir not only support this but are willing to lie for these so called VIPs.»
It seems that nobody or no place is safe from the plague of VIP treatment that we have now become accustomed to. People of Pakistan have been through so much of the same, that most of us never protest against the wrongs our leaders implement on us forcefully.
The courageous woman who spoke against Senator Sherry Rehman's VIP treatment by the airline needs to be appreciated for most of us think about the consequences of the act before we think about standing up for ourselves.