This post is also available in: العربية (Arabic) English (English)
An intense dust storm hit Karachi accompanied by strong wind on Sunday night and continued Monday morning dispersed sand across the streets and downing trees. A few days ago, Pakistan Metrological Department has predicted rain along with dust and thunderstorm in Karachi on Monday.
The storm dropped down the temperature providing Karachites second day of pleasant weather. On the other hand, multiple airlines halted their flights from Jinnah International Airport as the dust storm reduced visibility. The howling gales ripped off the tin walls, trees, poles and knocked out the power cables in some localities of the city. There are several reports of injuries and damage in the city to which the rescue teams responded immediately and cleared the roads from downed trees and poles.
The Dust Storm Was Stronger Than Expected, Said Pakistan Metrological Department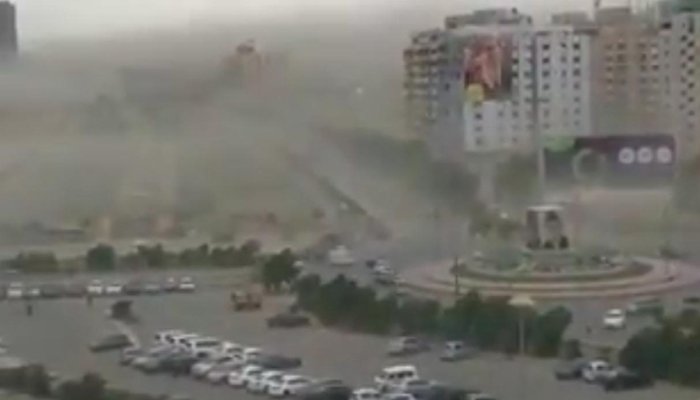 Pakistan Meteorological Department (PMD) Director Sardar Sarfaraz said, «Last night's dust storm was stronger than expected. Winds blew at a speed of 65km/h and reduced the visibility to 500 meters.»
«A western wind system is present in the city and winds are expected to blow at high speeds today as well, the western wind system will leave from the city by tomorrow evening,» PMD Director added. Sardar Sarfaraz further said that light rain is expected in the city during the day while rain with thunder is expected tonight and tomorrow. «Moderate rain with thunder is expected tonight and tomorrow morning in Karachi,» he said
However, Netizens Are Enjoying The Weather While Watching Game Of Thrones!
So, It Was An Advertising Stunt?

HAHAHA!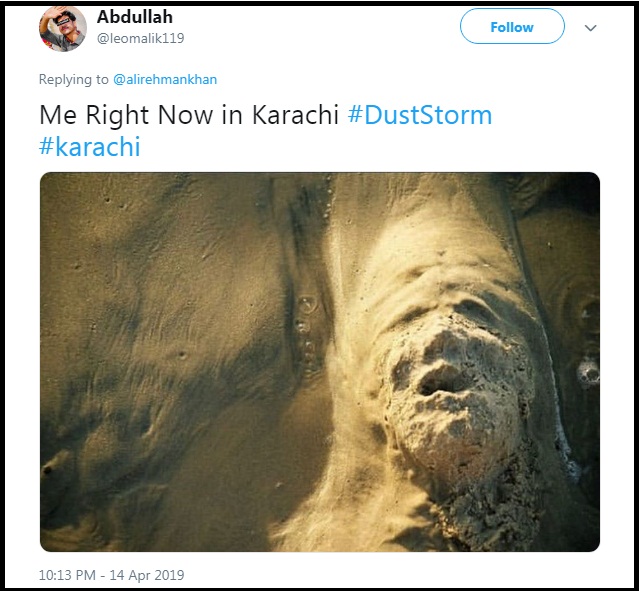 Shehzad Roy Tweeted A Picture Of His Car That Was Parked In His Garage Yet Covered In A Lot Of Sand!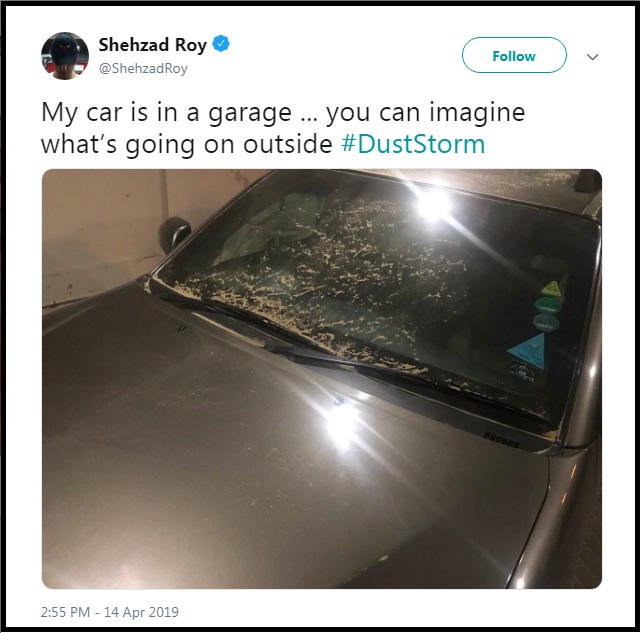 Karachites Right Now!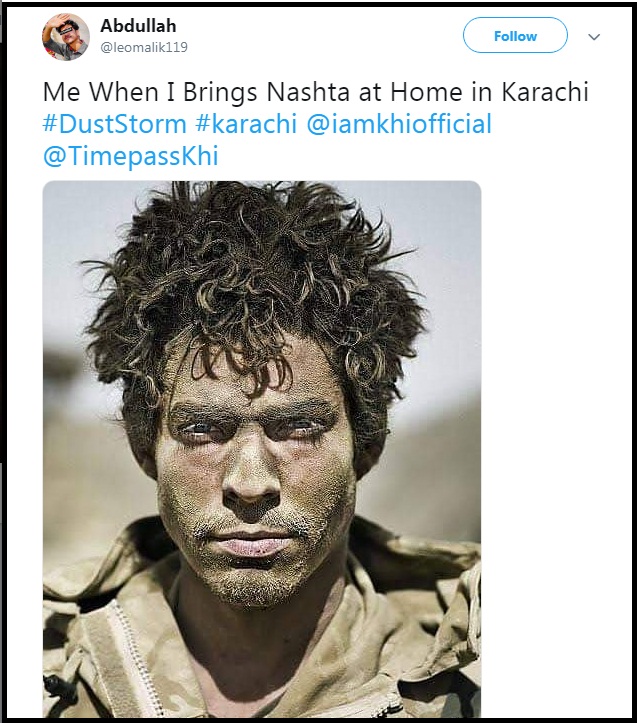 People Are Sharing Prayers To Be Recited In The Dust Storm!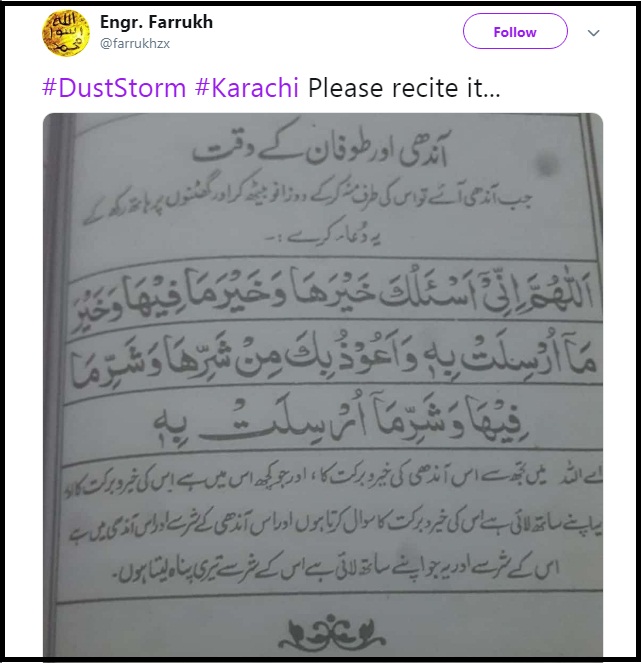 This Is Scary!
#DustStorm in #Karachi .
Don't know if it's blessing or curse. May Allah keep everyone safe. Ameen pic.twitter.com/QskWdCWeL4

— Nayab Waseem (@iNayabWaseem) April 15, 2019
Stay Safe, Guys!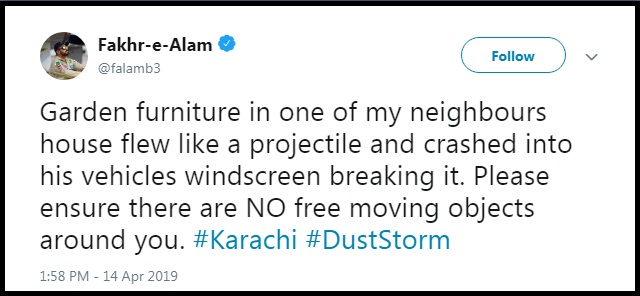 There Are Many More Videos On Social Media!
#Karachi once again morning #lightrain #storm . Karachi was hit by a heavy #duststorm last night which uprooted trees and affected electricity and telecommunication network in the port city. pic.twitter.com/OcjOz7lKCO

— AsherAlam (@AsherAlamgeo) April 15, 2019
OMG! Window Cleaning Trolley In Air!
Window cleaning trolley flying in air at an office in Dolmen City Mall due to #DustStorm #Karachi #khiAlerts #KarachiDustStorm @SherySyed_ pic.twitter.com/t2jVJCWqpp

— Hasnain Raza (@HasnainR_) April 15, 2019
According to a local news channel, three people lost their lives and twenty got severely injured due to dust storm and wind in Karachi. The incidents of wall and roof collapse have been reported in Korangi, PECHS, Malir, and Surjani Town.
PMD Director Sardar Sarfaraz said there was a likelihood of rains falling in Balochistan from Monday to Tuesday and at scattered places in Sindh's Sukkur, Larkana, Shaheed Benazir Abad, Hyderabad, and Karachi divisions on Monday and Tuesday.
Do you want to add more to the story? Share your thoughts with us in the comments!