This post is also available in: العربية (Arabic) English (English)
One of the most tragic divides of the world, the contest between two sects of Islam, Sunnism, and Shiaism has left the Muslim Ummah scattered. Ever since Prophet Muhammad (PBUH) passed away, after the pious caliphate, Muslims divided themselves into sects that the Quran or Hadees never mentioned.
Pakistan, an Islamic Republic, has seen sectarian violence ever since its inception. However, this violence gained velocity after 9/11, 2001. When Islam was being labeled as the religion of terrorism, both sects saw an opportunity to blame their accumulative shortcomings on each other. With thousands dead in the country in the name of sectarian violence, the Director General Inter-Services Public Relations (DGISPR) came forward with a shocking revelation.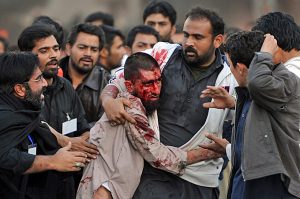 As per the DG ISPR, in 2013, a mosque in Rawalpindi was attacked which belonged to the Sunnis. The attack saw 8+ people dead and the incident was claimed by a Shia terrorist organization. However, the DG said that the ISI, Pakistan's secret agency, had worked extremely hard on the incident and they had found that the attack was neither done by Sunnis nor Shias.
ISPR showed a clip of a terrorist who himself was a Sunni but wore black clothes on the day of the attack so he and his partners could look Shia. The terrorist talked about how they had planned the attack. He told the name of his partners, how they decided to wear black clothes and spread violence by attacking the mosque.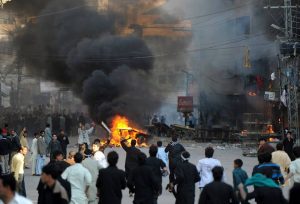 They traveled in a rickshaw towards the mosque in Raja Bazar, Rawalpindi. Half of them went to the top floor, while others stayed down. They started stabbing people inside the mosque. What is important to remember is that this was being done on the day of Ashura, a very important and sacred day for Shias.
After killing people inside the mosque, they burnt down a few shops in Raja Bazar and further spread violence by firing — sending the Ashura 'juloos' into a frenzy. Asif Ghafoor, DGISPR, made it adamant that there is no Sunni-Shia or sectarian divide in Pakistan, but perpetrators like the ones of Raja Bazar mosque tragedy are specially trained and funded by RAW.
These terrorists, who are people of FATA, are uneducated — being exploited by organizations such as Tehreek-e-Taliban Pakistan, which itself works at the behest of Indian spy agency, RAW (Research and Analysis Wing) and NDS (National Directorate of Security) Afghanistan.
This network is directly linked to Indian perpetrators such as Kulbhushan Yadav and others who come to Pakistan only to spread violence and carry out sabotage.