This post is also available in: العربية (Arabic) English (English)
Living in a Pakistani household, the rules are simple. You fight, bug, bother each other all day long, try to get on each others' nerves, but when an outsider tries to intimidate someone from your family, FAMILY COMES FIRST!
That's exactly what's happening in the larger context in Pakistan. Ever since India conducted an air intrusion of Pakistan, trespassing into its territory and going all the way to Balakot, Pakistanis have literally lost it, and rightly so.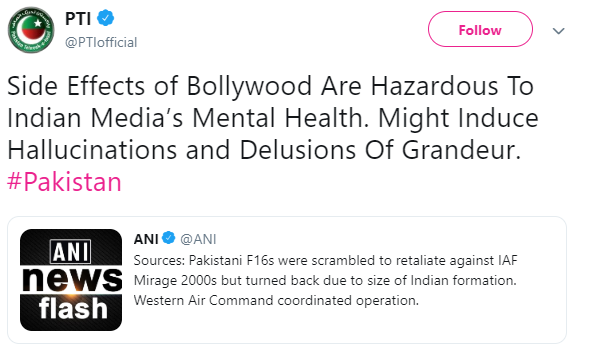 Apparently, Indian airplanes entered Pakistani space and left a pay-load just before leaving – not really creating an issue, but one thing's certain, THEY DID ENTER PAKISTAN, and this fact cannot be avoided.
Since the word got out, Pakistanis have been uniting on the front and have been supporting the government and all other institutions to take note of the incident, and reply in an absolutely perfect way.
The best bit about the whole issue came when Khwaja Asif, the former Defence Minister of Pakistan, called for all Pakistani political parties and forces to set aside their differences and unite against India, which had recently trespassed into Pakistan and created a weird scenario.
«A generation is being blinded in Kashmir and it is time to express solidarity with them. It is a time of national unity and a national need to maintain the sanctity of House. A parliamentary meeting should be called and a loud and clear message should be given that we are united. Kashmir is in a crunch and our enemies are being called as 'guest of honor'», he added.
Pakistan is the biggest blessing we have. May Allah SWT bless and protect Pakistan, our beloved country, our Motherland, our Homeland.
Pakistan Zindabad hamesha ??

— Maryam Nawaz Sharif (@MaryamNSharif) February 26, 2019
«Pakistan should impose a total ban on import of India when it has imposed 200% ban on Pakistan goods,» he said.
Khwaja Asif's fiery speech, which revolved around PTI, PML-N, and PPP, the major political parties of Pakistan forgetting their differences and countering the Indian narrative, together, is being appreciated highly on social media by people.
Never thought I'd say this, but Khwaja Asif you absolute legend. Saying all the right things, saying all the things that need to be said. I wish the rest of them grew a spine too.

— The Big Bad Punisher (@FanahBaqah) February 26, 2019
The time has come for all political parties to join their heads together. Put aside your differences . This is about #PAKISTAN. Excellent speech by Khwaja Asif in the parliament. #Balakot #PakistanArmy #PakistanAirforce @PTIofficial @pmln_org @MediaCellPPP

— Daنish (@danishr_) February 26, 2019