This post is also available in: العربية (Arabic) English (English)
After Tabdeeli spring sweeping through the Federal Cabinet, this might well be the time for the Punjab Government to exhibit some fireworks at the crease. Before his departure, Asad Umar could be seen speaking to a gathering in cricketing terms about how much the pitch is green and the bowl is reversing. And it was only days later that same Asad Umar could not stand the wrath of his captain over the poor display of footwork as his opening batsman.
Same seems to be the case in CM Buzdar's performance. As experts suggest he is not living up to the standards set by his Captain. Earlier this year, when the Prime Minister was questioned by several senior journalists about his level of satisfaction with the performance of CM Buzdar, the Prime Minister Imran Khan using his conventional cricketing citation said that the performance of CM Buzdar will be identical to that of Inzamam ul Haq in Cricket World Cup '92…
If I have draw an analogy of IK's decision making process for selecting Usman Buzdar as CM, I will refer to the selection of Inzamam ul Haq in 1992 world cup. It may or may not work out, but he must have seen something in him. @ImranKhanPTI @PTIofficial #PunjabCM

— Sohail Tariq (@SohailTariq227) August 19, 2018
Read Also: PM IMRAN KHAN HAD TO RESHUFFLE HIS CABINET
But as per political gurus, the reality did not correlate acutely to the advocacy of Imran Khan for his current playing XI…
News is spreading that within the last 24 hours, PM has decided to overview the performance of his Punjab Ministers very comprehensively. And we all know who is leading the lot for PTI in Punjab-at least, on screen.
And another possibility is that in a bid to ensure quick fixes, full-fledged technocrat Cabinet could be set up by Prime Minister Imran Khan, which hints to the appointment ex-Interior Minister Chaudhry Nisar as the new Chief Minister of Punjab-replacing Usman Buzdar…
Yes, CM Buzdar is in hot waters as he was observed to spring into action after witnessing the Tsunami in Federal Cabinet.
I'm with u brother. I agree with u. Couldn't understand IK two decisions so far. Nomination of buzdar and. Mehmood khan as CM Punjab and CM kpk and now Asad Umar removal.

— iftikhar ali (@iftikhar_457) April 18, 2019
Chief Minister of Punjab, Sardar Usman Buzdar has serious apprehensions about himself getting sacked upon failing to cope up with the mounting pressure.
And here's how Pakistanis are reacting to this!
Muja nikalne se pehla bus itna bta dena muja rakha kyu tha?
CM Usman Buzdar pic.twitter.com/PpeYUtdBNI

— Haseeb Sarwar Khan (@hasebsarwarkhan) April 19, 2019
LOL.
CM Buzdar is likely to be sent for *Training*

— yzahs (@haa2313) April 19, 2019
And this…
Buzdar ko cm lagwane wallon ne punjab se Dushmani ki hai.

— Muhammad Nawaz (@Muhamma14845646) April 20, 2019
After speaking to the prime minister and with his permission, Dr. Gill tweeted: "I want to explain that there is no consideration of replacing Punjab or the KP chief minister. Both are enjoying the full confidence of the prime minister."
Another alarming news is that the sword is also hanging on a few other ministries including health, prisons, energy, labor, excise, and food. While the former Minister Fayyaz ul Haq Chauhan appears to make a comeback in the Punjab Cabinet.
Sources also suggest that the task to consolidate the position of CM Punjab with a better name has been assigned to Mr. Jahangir Tareen. And, it wouldn't be surprising if you see Tareen making the best use of his private jet yet again…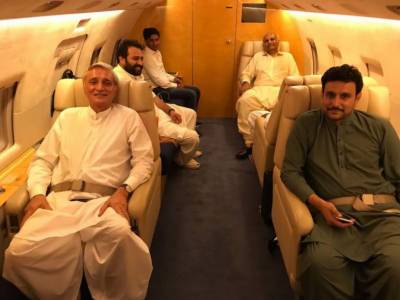 Tell us in the comments section about your prediction on what fate lies ahead for CM Buzdar… And, who would be the best suitable candidate to replace him!