This post is also available in: العربية (Arabic) English (English)
One of the gravest issues of the country, its blasphemy laws have been highlighted at max in the last few years. Unfortunately, many have lost their lives without any proof of committing blasphemy.
Pakistan's new prime minister, Shahid Khaqan Abbasi was present at a session organized by the U.S think tank on Foreign Relations, answering questions of journalists and different technocrats.'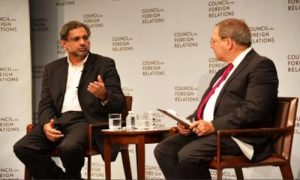 Kenneth Roth, who belongs to the Human Rights Watch left PM Shahid Khaqan Abbasi ruffled and puzzled after he asked him spontaneous questions regarding Pakistan's blasphemy laws. The question was detailed and it revolved around taking information about a man who had been sentenced to death for committing blasphemy.
Roth further asked Abbasi about the heartwrenching death of a journalism student of Abdul Wali Khan University, Mashal Khan. Mashal was framed by the university administration, portraying that he had committed blasphemy. The student was publicly lynched to death and the Anti-Terrorism Court of Pakistan has just started the case's hearing.
?? Pakistani PM Abbasi dodges question on #Blasphemy Laws https://t.co/CU01uBVCyb #ReligiousFreedom @USCIRF @KenRoth pic.twitter.com/pQGOWs86zb

— Rabwah Times (@RabwahTimes) September 22, 2017
Shahid Khaqan Abbasi, in a bid to dodge the question, said: «The laws in the country are very clear, and it's only up to the parliament to amend the laws. The job of the government is to make sure that the laws are not abused and innocent people are not prosecuted or prosecuted. So that's my primary job. There has been a debate on this issue in the provincial assemblies and in the national assembly, but it's only up to the parliament to amend or change the laws.»
I gave Pakistan's new prime minister a chance to show moral leadership against death sentences for «blasphemy.» He utterly failed. https://t.co/0SfYbTEl8r

— Kenneth Roth (@KenRoth) September 22, 2017
New York Times' journalist urged PM Abbasi to speak on the issue, saying he was in a position of moral and political leadership, but Abbasi's reply hinted that he wasn't comfortable speaking on the issue. His reply stated: «Well, I cannot comment on what is the law of the country. As I said, the only amendment that can happen to that law can be done by the parliament, and there are two houses of the parliament.»
Abbasi's semi-snub to the question is making people talk and notice that the most powerful person in Pakistan thinks he is in no position to speak against the blasphemy laws. If that is the condition of the prime minister, what could be expected from the people?