This post is also available in: العربية (Arabic) English (English)
The world witnessed another tragic incident incorporating innocent Muslims in New Zealand that sent over 40 people to Jannah in a matter of a few minutes. The act was committed in two of the mosques in Christchurch, New Zealand and among the people who embraced shahadat included Pakistanis as well. Pakistan's foreign office has confirmed the shahadat of 6 Pakistanis as of yet.
Foreign minister Shah Mahmood Qureshi tweeted about the shuhadas.
The shuhada included a father Naeem Rashid and his son Talha Rashid from Abbottabad. Haroon Mahmood from Islamabad, Syed Jahandad from Lahore, Sohail Shahid and Syed Areeb Ahmed from Karachi.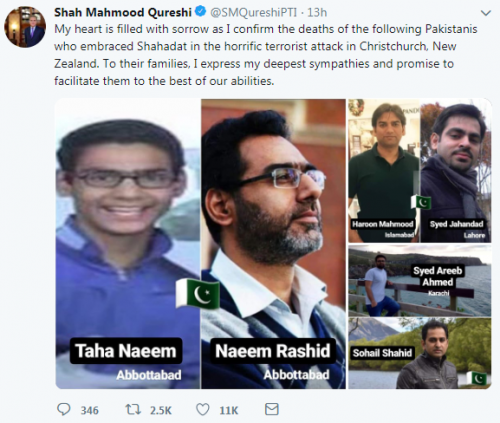 He further stated that 3 Pakistanis are still missing.
Shah Mahmood Qureshi further said that there are three Pakistanis still missing and the government is making every effort to get any information about them from the New Zealand government. He assured that the information will be made public once received.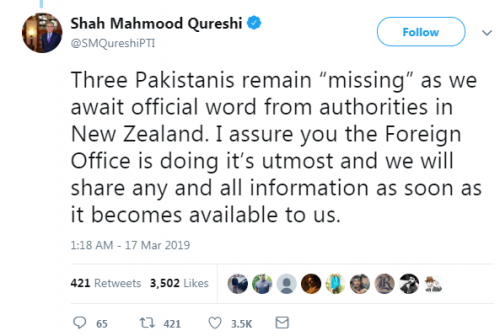 Naeem Rashid a hero.
The father Naeem Rashid left his 'zakhmi' son Talha Rasheed to tackle the person involved in this act, as soon as he entered the mosque. His bravery and courage is commendable and has been recognized by the prime minister of Pakistan Imran Khan who said that his bravery will be acknowledged with a national award. This is a very good gesture by the government of Pakistan.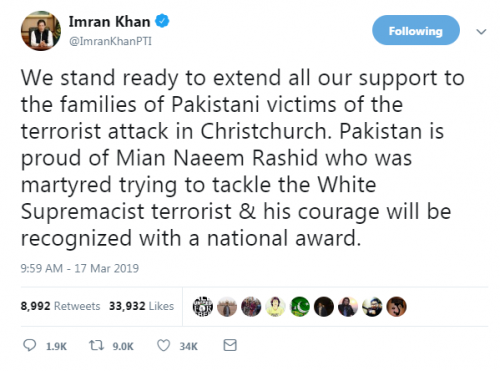 The face of a hero.
Not many would have the courage to leave their own son behind at that moment. But this man did it and people are considering him a hero and rightly so. People are calling for Abbotabad's name to be changed to Naeemabad.
No more Abbott Abad
Just Naeem Abad
Change our City name to our Hero's name.#NaeemRashid pic.twitter.com/RzgwkjmEX8

— Ali The Imranist (@Jalangialswati) March 17, 2019
Haroon Mahmood, a PhD candidate.
Haroon Mahmood from Islamabad also embraced shahadat in the incident. He left Pakistan to pursue education at Lincoln University in Christchurch. Here he can be seen with his two children. Haroon was to graduate his PhD in May, after 5 years of living in NZ.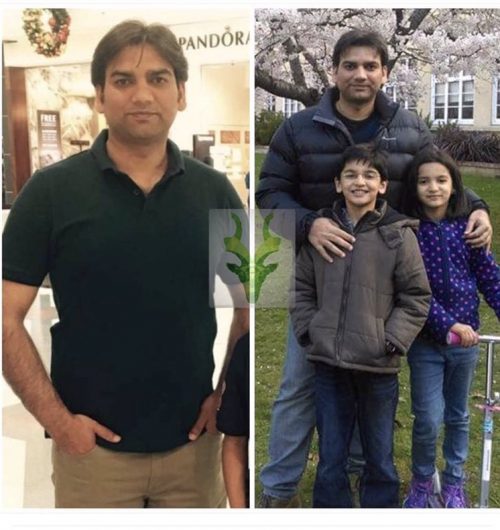 Syed Areeb.
Areeb was working as an accountant in Christchurch. He was from Karachi Pakistan.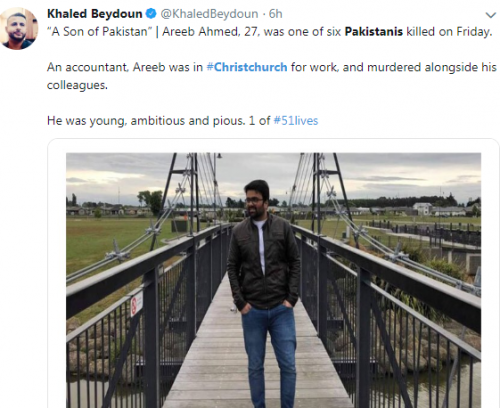 Along with them Syed Jahandad and Sohail Shahid also embraced shahadat. We hope that proper arrangements are made for the families of the shuhada from both Pakistani and NZ government. This is the time to stick together with each other and pray for the shaheeds. May they get the highest makaam in Jannah. Amen.