This post is also available in: العربية (Arabic) English (English)
Pakistan, the only country that was made in the name of religion anywhere in the world, has seen its fair share of variance when it comes to Islam. The generic thought process of a huge majority of Pakistanis, who think that they are the only stakeholders left of the religion, usually end up going against the State in a bid to fulfill their ideology.
That is exactly what has been happening ever since the honorable Supreme Court of Pakistan acquitted Christian woman Asia Bibi from blasphemy charges. The quasi-4th largest political party of Pakistan, Tehreek-e-Labaik Ya RasoolAllah, has tried to bring the State and government on its knees in a protest against the top court's decision.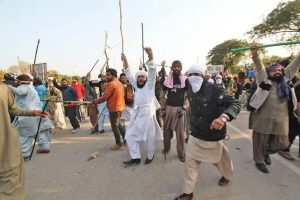 Rogue clerics like Alama Khadim Hussain Rizvi who spearhead the party, incite violence in the name of religion and the followers only end up hurting their countrymen. First, the clerics demanded 'religious murders' of the Supreme Court judges and then mutiny in the army against COAS General Bajwa. All this, on top of the mob mentality in their protests.
Every major city of Pakistan currently sits hostage to the TLP followers who have been wreaking havoc throughout the country, blocking motorways, streets, city entrances, and exits, along with prominent highways.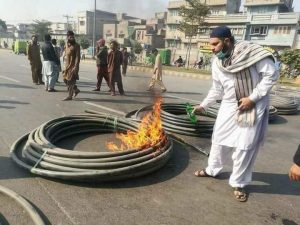 Not just this, but the mob has also been burning public property, including Daewoo buses, rickshaws, motorbikes, expensive cars and anything else they can get their hands on. The mob, which is carrying sticks, stones and even swords (as a viral picture suggests), does not plan on giving in or giving up until the government negotiates with TLP leaders over the Asia Bibi Case.
Here are a few glimpses of how Pakistan has been burning for the last 48 hours
@Xadeejournalist
Is that bonfire or protest ?#ملاگردی_بند_کرو pic.twitter.com/PTWGKHeBfd

— پیار، عشق اور محبت پاکستان (@NaqqarKhaneMae) November 1, 2018
My brother car burnt by islamic clerics.
They tried to raise there ranks by burning some ones(innocent) property.#applause#ملاگردی_بند_کرو pic.twitter.com/36YMHDnnwH pic.twitter.com/eHoYMA015I

— Rix_says❗ (@RizwanKhan155) November 1, 2018
Canal road Lahore . Bcz they have blank mind and empty pockets #ملاگردی_بند_کرو pic.twitter.com/Fm6EedS9VH

— Ali_Shan (@undefeat_able) November 1, 2018
Islam dosen't teach us to create anarchy & to oppress minorities. This extremism, intolerance & oppression is not islam. Stop misusing & defaming islam for your interests ! #Protest#ملاگردی_بند_کرو pic.twitter.com/1dlMZ5s2lz

— نِمرہ . (@Optii_mistt) November 1, 2018
Where is writ of the government ? @ImranKhanPTI @ShehryarAfridi1 @Fayazchohanpti @fawadchaudhry #ملاگردی_بند_کرو pic.twitter.com/pwqPz6Ws2q

— Dr Ayesha (@DrAyeshaNaveed) November 1, 2018
In this complete state of anarchy and mobocracy, travelers have been left stranded on highways/motorways, not being allowed to enter cities. Another viral picture caught the country's attention when a mother was seen sitting on the road, feeding her child, because the mob would not let their cars pass into the city.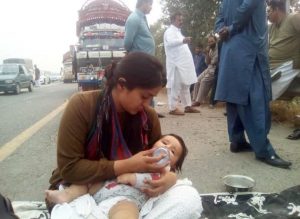 The Information Minister of Pakistan, Fawad Chaudhry, took to Twitter and stated that cellular signals might be down in parts of the country tomorrow as the government plans on ending the siege by use of force. Imran Khan, the PM, previously in his address to the nation clearly stated that nobody will be allowed to challenge the writ of the State.