This post is also available in: العربية (Arabic) English (English)
9-months-old baby Nashwa who was administered a drug wrongly by the nursing staff of Darul Sehat Hospital lost her battle with life on Monday. Baby Nashwa was brought to the hospital a week ago by her father with a minor stomach ache but due to the negligence of hospital staff, she got paralyzed as her brain got damaged completely.
Her Father Said In His Facebook Post That The Hospital Staff Injected A Shot Instead Of Drip!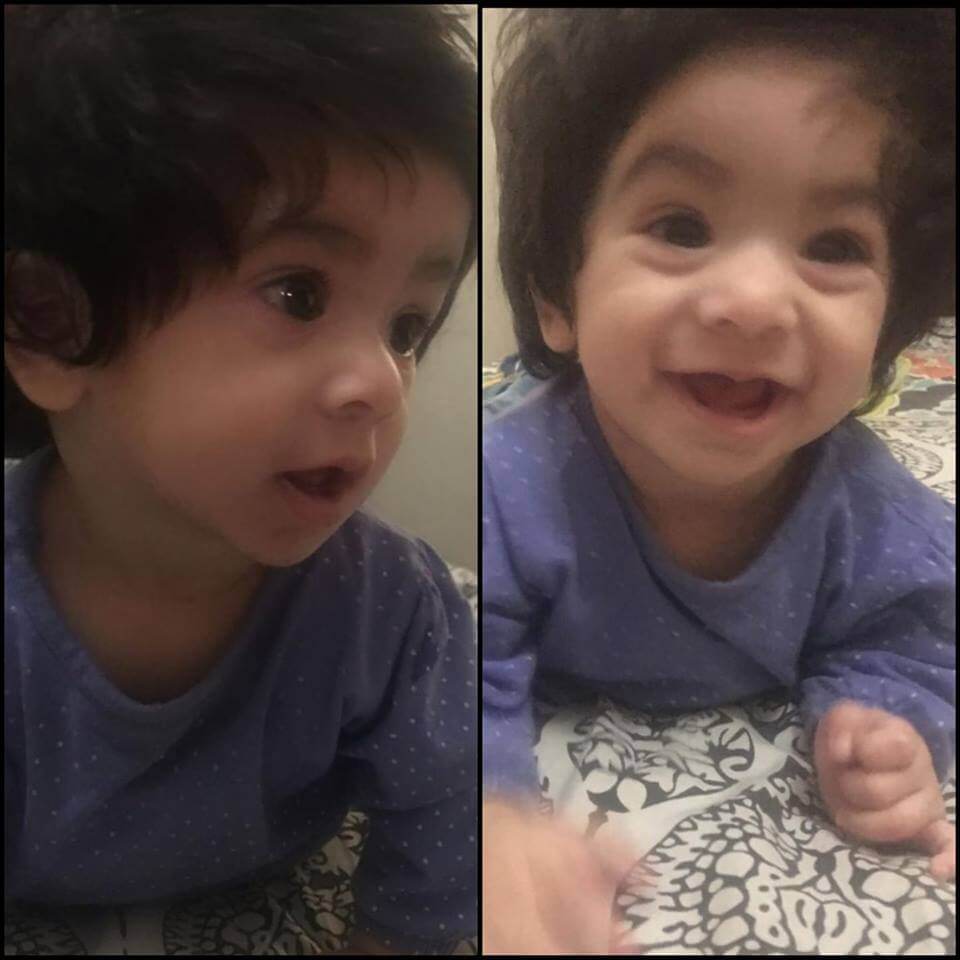 Qaiser Ali – Nashwa's father wrote in a heartfelt post that he brought his daughter to the hospital for a checkup but nobody knew that those 20-seconds would change his life forever. Holding the hospital staff accountable for his daughter's life, Qaiser wrote that due to the incapable hospital staff, his daughter is facing a life-threatening situation. Instead of a drip, the hospital staff injected the shot and all of a sudden Nashwa stopped responding to anything and got paralyzed.
On Saturday – The Night Of 15th Shaban, Qaiser Requested His Fellows To Pray For Little Nashwa!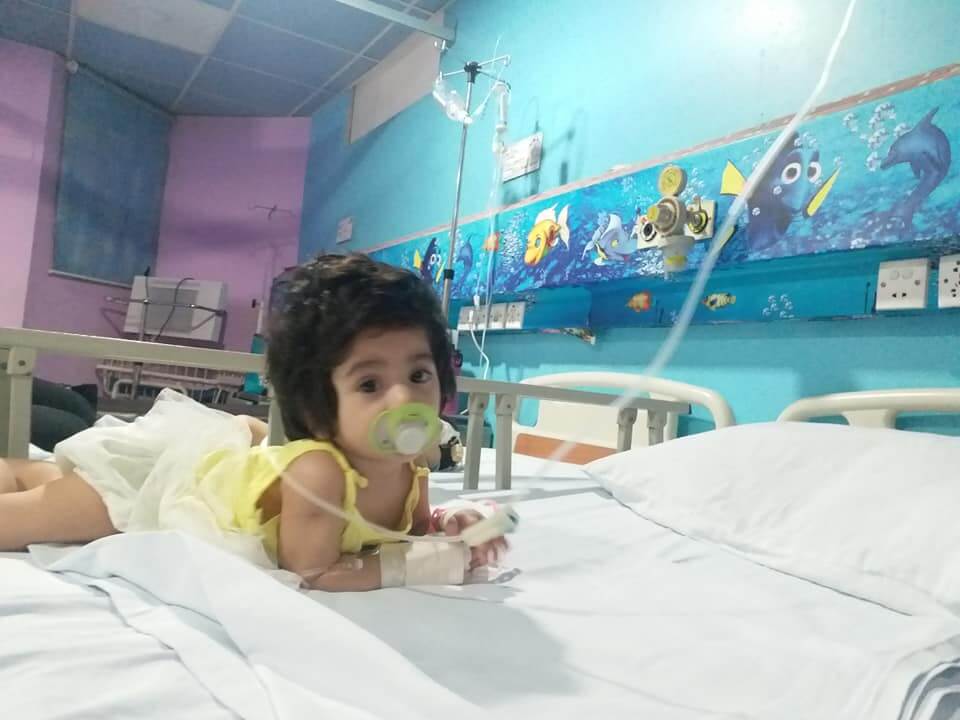 On Shabe Baraat – the night of 15th Shaban when everyone was praying for their loved ones and asking for forgiveness from Almighty Allah, Qaiser asked for prayers for his daughter, Nashwa in a Facebook post. He wrote, «Aaj Bari Raat Hai, Duaien Qubool Hoti Hein, Faislay Likhay Jatay Hein. Bohat Adab Say Sab Mohsinon Say Duaoun Ki Iltija Kay Allah Pak Nashwa Kay Sath Sehat O Aafieyat Ka Muamla Farmayen Aur Woh Jo Nashwa K Aur Hamarey Haq Mein Bahter Ho – Aameen. Nashwa Kay Sath Meray Aakhri Haseen Lamhaat!»
Nashwa was taken to another private hospital in Karachi for further treatment. She was put to the ventilator but alas, she couldn't survive.
But Almighty Allah Had Some Other Plans For Nashwa! Social Media Users Are Showering Their Love For The Little Angel!
Rest In Peace, Baby Nashwa!

Senior Politician And Leader Of MQM-P Faisal Sabzwari Took It To Twitter And Demanded Justice For Nashwa!
People Are Sharing Pictures Of Rare Moments Of Nashwa! You'll Be Missed, Little Angel!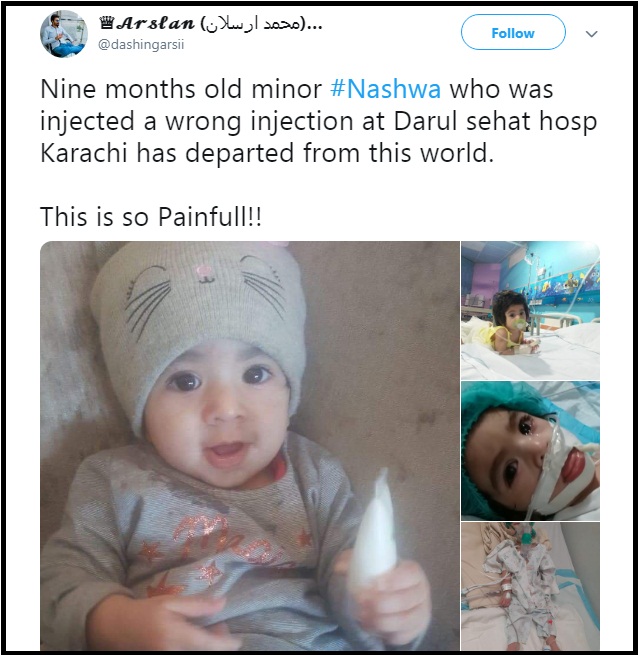 Vocal Pakistani Actress Armeena Khan Also Shared Her Condolences!
This Is Heartbreaking!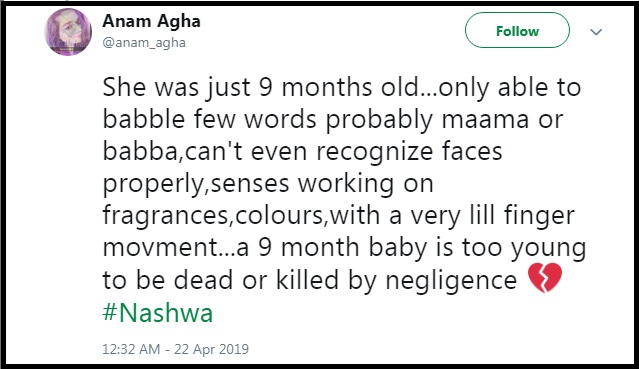 On the other hand, the Sindh Police, Sindh Health Care Commission (SHCC) and the two-member committee formed by Chief Minister Sindh to probe the doctor's negligence in Nashwa's case.
The hospital administration has already admitted its mistake and offered the family to bear all the expenses of the treatment. Unfortunately, it is too late now but let's see if Sindh government take a stand against the administration of hospital to save other children's lives.
May Almighty Allah rest her soul in eternal peace and give her family patience in this hard time, Ameen!