This post is also available in: العربية (Arabic) English (English)
For many, a friend is more than any relation in this world. People leave their cordial relations just to make their friends happy or to stay with them at every front. Indeed friendship is a blessing. However, a recent viral video on Facebook depicts friends can become your worst enemies at times.
In a video that has surfaced all over social media, a group of people, who are allegedly students of IMM (an exam for medical physicians surgeons), hitting their friend at his birthday celebration. They smashed him so hard that the poor guy did not make it any further and succumbed. Such kinds of friendships are not a blessing but a curse. The birthday boy was knelt down on the floor when 10-20 of his friends got the better of him.
However, the guy regained consciousness and was seen unwholesome at the end of the smashing. Everything went smooth after the incident took place. The birthday was celebrated and every friend of the poor guy went home. The very next day things got murky.
The birthday boy had a stomachache, for which he went to the hospital. The doctors admitted the guy into the Internal Care Unit (ICU). Later on, it was revealed that his pancreas was seriously damaged and he was referred for an operation. Soon after the operation, the boy met his Maker.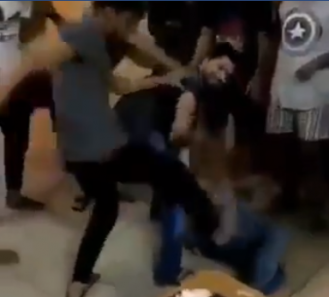 The video is a lesson for all those who do not choose their friends wisely. Although, it is not a sin to joke around with your mates, things still should remain in limits. As long as your actions are not causing grief to your friends, they are right. Remember, the moment your friends behave with you awkwardly, it is high time to abandon such a gathering.
We often invite our best of the friends to such occasions. What would be the feelings of his family? The guy may have taken money from his mother or father for his birthday party. Alas, he would be alive had he not invited his friends over.
That is how people on social media reacted to the video
It is more than «Jahalat»

Exactly, «You don't need enemies when you have friends like them»

The word «disgusting» is nothing for these morons

God Willing, they will be arrested

Yes, they should be treated in the same way

Hopefully, government authorities would take appropriate action against the IMM students and would make an example out of them. This story is truly an implication of how things run when nobody is usually filming them.