This post is also available in: العربية (Arabic) English (English)
Muhammad Fayyaz recently made headlines, although for all the wrong reasons. This talented and passionate man belonging to a small village Arifwala from Pakpattan district, Punjab made his very own mini hand-made aircraft, Which was confiscated by the Punjab police as he was doing his test-runs in the air on 31st March. He was also taken in on the grounds of flying without a permit, later released with 3,000 rupees charge. The treatment he received by the police authorities was booed upon by Pakistanis.
CAA expert, Naseem Ahmed upon being inquired about Fayyaz's arrest by a news channel, stressed upon the laws that they are clear and absolute, further adding «There needs to be a prior approval. It's for their own good for their safety. What if God forbid the plane crashes with any building. Ignorance cannot be used as an excuse.»
A Humble Popcorn Seller and a Security Guard Used All Of His Life Savings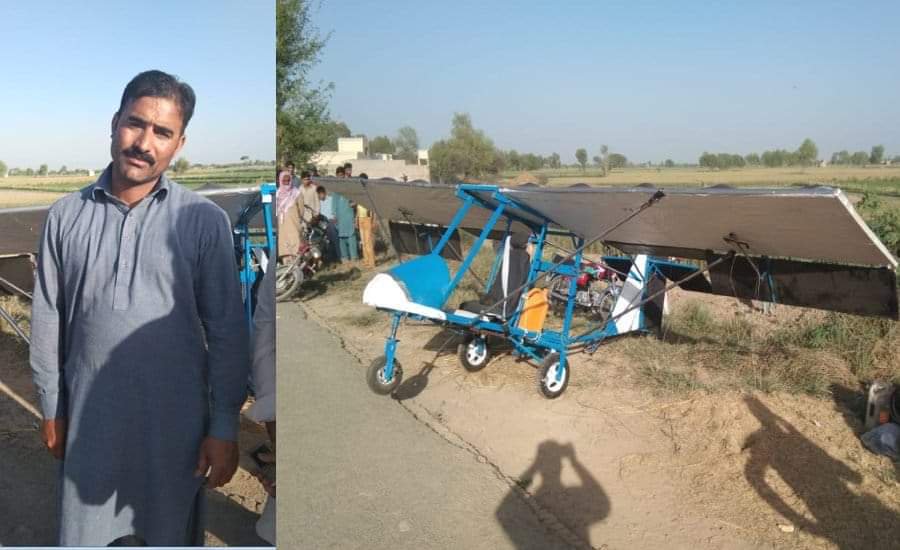 And to top this, he took a loan of rupees 50,000 from the bank to support his dreams. His talent and passion for aircraft and flying didn't go unnoticed and was appreciated by the entire nation, including Fakhr-e-Alam. Since he shares the same interest as Fayyaz and has successfully circumnavigated around the globe solo, becoming the first Pakistani to do so.
Fakhr-e-Alam took to Twitter to praise him and show his displeasure towards the treatment he received at the hands of our authorities. He criticized how Pakistan is unable to respect and assist emerging talent, also reached out to Prime Minister Imran Khan.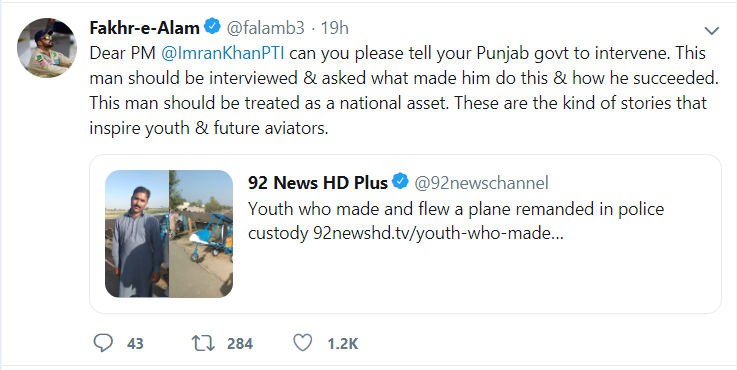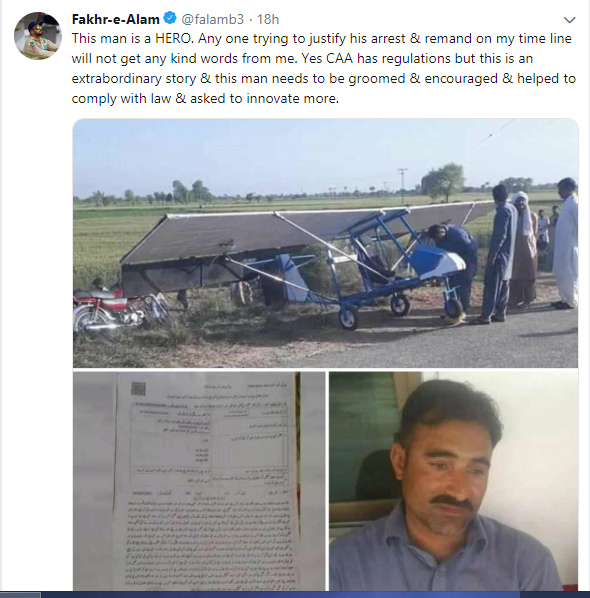 The Hand-Made Aircraft Is Returned To Its Rightful Owner
According to a recent report, on DPO Pakpattan Maria Mehmood orders the plane has been returned safely back to Muhammad Fayyaz after being confiscated a week ago. Fayyaz is all smiles and delightful. He told the media how hard he has worked on to build this aircraft. From the limited resources he managed to buy from all of his savings and bank loan, he built it from scratch.
He continued on to tell how he would sleep for three hours and work on the aircraft for two, while the rest of the day he would be selling popcorns and do guard duty. This truly is an example of a hard-working man who is dedicated to his craft.
Civil Aviation Team Recognizes His Talent And An Inspection Will Be Carried Out
The aviation team was set to meet Muhammad Fayyaz soon to inspect his plane. The inspection will also include thorough checking whether this aircraft is safe to be flown or not.
Fayyaz stated in joy after receiving the self-made mini aircraft that he will not even think of flying it unless he is allowed by the respective authorities to do so. Although previously upon being arrested he mentioned how he sought out permission but was not paid any attention.