This post is also available in: العربية (Arabic) English (English)
Putting all the rumors around Ruet e Hilal committees work and the moon sighting controversy in Pakistan, that has prevailed for decades, the incumbent government under the leadership fo Prime Minister Imran Khan has come out with a decision that has left the country speechless.
In a fresh new start for the religious conventions of Pakistan, The Minister for Science and Technology, Fawad Chaudhry, has come out with a plan that has removed all religious influence from the moon sighting process of Pakistan.
A committee, known as the Ruet e Hilal committee, which was previously responsible for the moon sighting for Eid-ul-Fitr, Eid-ul-Azha, and the first roza, has been left with zero work as per the government's recent decision.
An office memorandum released by the Ministry of Science and Technology read: «Subject: the constitution of a committee to finalize the calendar.
The honorable Federal Minister for Science and Technology has been pleased to constitute the following  committee to finalize the calendar to indicate the exact dates of Ramadan, Eid-ul-Fitr & Eid-ul-Azha and Moharram for the next five years with 100% accuracy.»
The newfound committee comprises of technical experts, who will predict the falling of religious days, perfectly, accurately, for the next 5-years, and the committee with being in power for the next 10 years, means that the role of Ruet e Hilal has been annulled altogether.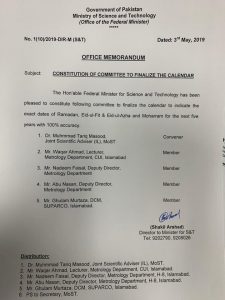 The committee comprises of Dr. M. Tariq Masood, Joint Scientific Advisor (IL), Ministry of Science and Technology, Mr. Waqar Ahmed, who is a lecturer of Metrology Department, CUI, Islamabad, Mr. Nadeem Faisal, DD Metrology Department, Mr. Abu Nasan, DD Metrology Department and Mr. Ghulam Mirza, DCM Suparco.
The MoST minister further said that the government was wasting almost Rs. 4 million on this committee and its lackluster decisions, further stating that the country could not be left in the hands of religious clerics, who dubbed Quaid-e-Azam Muhammad Ali Jinnah as a kafir as well.