This post is also available in: العربية (Arabic) English (English)
On Thursday, an Indian Financial Crimes Agency known as the Enforcement Directorate (ED), put forth a charge sheet against famous Islamic preacher and scholar Dr. Zakir Naik. The cleric is being accused of laundering money that ranges up to $28 million, almost 2 billion Indian rupees.
Dr. Zakir Naik is being said to have been involved in mammoth money laundering cases, where he illegally acquired money and transferred it abroad, through illegal means as well. India had previously turned rogue against the religious scholar who has a massive following in the sub-continent, most of which is from India.
As per the BBC, Dr. Zakir Naik has also been accused of spreading indecent speech across India, playing with the minds of the Indian people.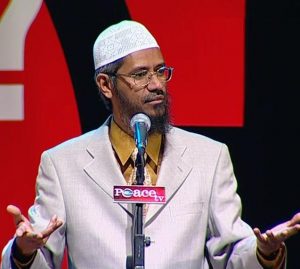 The ED, according to The Hindu, says the scholar has assets worth 1.93 billion Indian rupees and the properties he owns are as valuable as Indian Rs 504,600, which have shown up so far.
The linked properties include mutual fund investment, IIS school in Chennai, a dozen flats, few godowns, and two apartment buildings, in Mumbai and Pune.
«The ED probe revealed that Mumbai-based Harmony Media allegedly recorded the speeches and forwarded the edited versions to the Global Broadcasting Corporation (Dubai) and the UK-based Islamic Research Foundation International (IRFI) for further broadcast on Peace TV across the globe,» wrote The Hindu. 
Dr. Zakir Naik holds a very populous following who are very emotional when it comes to their leader/spiritual head. Peace TV's Dr. Zakir is famous for holding open-talk shows where the public can conduct questions and answers with him on all religions.