This post is also available in: العربية (Arabic) English (English)
There's a Facebook post circulating everywhere regarding an incident where a boy lost his life due to the negligence of doctors. The doctors showed their negligence, not at one or two but everywhere the boy's family took him for immediate treatment. It was a case of emergency as reported by the boy's sister, she reveals details stating that her brother was in immense pain while the doctors did not take it seriously.
Here is the original account of the incident as reported by the boy's sister:
My one only brother, Anib Abbas passed away on the first day of Eid at Fajar. This is how he fell on the 29th ramzan without the support of his hands (he wanted to save his hand as his bones were broken and had plates in his hand) and hurt his whole chest and stomach while fasting, at iftar he ate one fry and then his pain got unbearable, blood was dripping from his belly button , we took him that instant to 5 DIFFERENT HOSPITALS BECAUSE NO ONE WAS WILLING TO HELP HIM, we went ZIAUDDIN where they got his ultrasound done, doctors were least interested in reducing his pain wo tarap raha tha dard se lakin wo bolty rahy ab iska to CT scan hoga ap pasy bhrden ap isky bi pasy deden usky bi deden BUT NO ONE DID ANYTHING TO HELP HIM THEY JUST KEPT SAYING WAIT AUR PASY BHREN AP, HUMY TO SMJ NAI ARAHA, then we took him to SAIFEE HOSPITAL where they got his xray done and GAVE NORMAL DAILY PAINKILLERS AND SAID AP PASY BHRDEN SUBAH TAK DARD KAM NA HO TO LIAQUAT LE JAEN, we then rushed to AGA KHAN HOSPITAL WHERE THE DOCTORS COME AND TELL US K 'YE TO KUCH BI NAI HOA HA ISKO DRAMA KRRAHA HA DARD KA'. They didn't do his X-RAY or ultrasound but accepted the ones we got from other hospitals, they refused to do the MRI TEST and even TAUNTED MY BROTHER K 'ABHI MRI ME 4 GHANTY BETHAUN KIA TMKO SSAI KHRE HO FORAN ' his pain was INTENSE aur wo jahil doctors usko bolre k chalo UCHLO KUDO, mera massom bacha us dard ki halat me jaha us se khra tak na hoa jaraha ADHY GHNTY CHALA BHI HA AUR UCHLA BI, Aise konse dil waly doctors hain jinhe aik massom bachy ki takleef na dekhi? HIS CHEST WAS HARD AS A ROCK AND THEY KEPT SAYING K DARD TO ABHI BRHE GA AUR BHRHE GA. Doctors ko sirf apni eid manani thi ye patients nai inky customers smjhty hain, we took him the next day at fajar when he couldn't bear he fell and vomit it to IMAM ZAINULABIDEEN HOSPITAL because it was the nearest aur waha doctors k nakhre khatam nai horahy jakr dek nai rahay WE BEGGED THEM TO SEE OUR LITTLE ANGEL and all they kept treatinf us like shit saying 'AP KHUDI KRLEN NA ' and then asked us 'ISKO CARDIO LEKR JAEN', jab kahi aur hi Jana ha to apnay kiu hospital khola ha????!, humara bacha in logo ki waja se eid pe hi chala gya , lost all trust in the word 'doctors of PAKISTAN'.

Sharing the reports where they wrote him a BABY GIRL, second they wrote PATIENT WAS LYING COMFORTABLY IN BED when he WAS IN UNBEARABLE PAIN, third CONSULTANT IN REPORTD IS EMAD WHEN NO EMAD CAME LADY DOCTOR CAME ', Fourth PATIENT WAS DISCHARGED IN STABLE CONDITION WHEN HE CLEARLY COULDN'T EVEN WALK STRAIGHT, when we took him aat ajar from imamzainulabadideen hospital to taba in God knows what painful condition and they gave us the news of his death, they locked the hospital doors and me and my family were lying on the floor devastated alone with nothing left.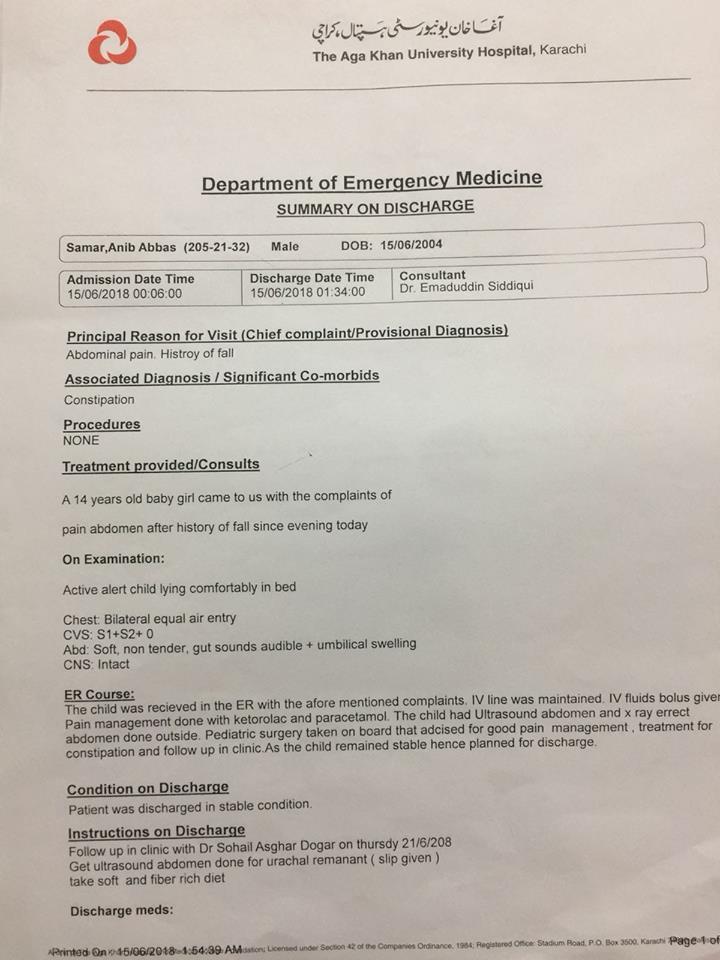 This is indeed tragic. The boy tragically lost his life due to the utter negligence and unprofessional behavior shown by the doctors and hospital management. This has become a customary practice for hospitals to demand the charges before proceeding with treatment, no matter how serious may the condition of a patient be.
We are at a loss for words. We urge prayers from our readers for the boy, may Allah grant patience to his family in this catastrophic time.